One Pearl of a Tea You Can't Skip – Jasmine Pearl – just wait till you see the container.
Company Name: Creative Coffee NYC
I was contacted by Creative Coffee to sample their tea line and I was so happy they did, first off I get to interact with another amazing tea producer and I get to tell you all about an amazing new tea. At first I thought it was a coffee company breaking into tea however as you view their website you will see 4 coffees as compared to 25 teas.
**Direct link to main tea site is located below the Company Details below tea reviews!**
TEA SELECTION: Jasmine Pearl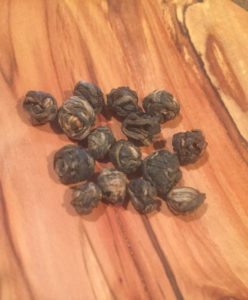 Interesting Highlights:
I like the containers… mine I believe was a sample size, but it's a very sturdy, palm sized cardboard container. It's fun and it was fun to hold actually, I know that sounds weird but wait till you try one, you will see what I mean.
Ingredients:
Hand rolled, floral certified organic green tea
Review:
Lovely floral (Jasmine) scent prior to brew, when you open the container the smell of Jasmine pours out. It's a lovely medium bodied tea with a strong floral scent. I love the way a green tea can take on the aroma of the jasmine, it's a beautiful marriage of two single origin ingredients combining to make one incredible tea. There is no aftertaste or bitterness, this tea is smooth and oh yes, another great plus for this tea is that it's organic. I personally love organic products as well as non GMO products as well so to find it in a tea makes me smile a bit more.
Cost: $8.99/ 5-7 cups
Price may vary according to the amount purchased.
~~~~~~~~~~~~~~~~~~~~~~~~~~~~~~~~~~~~~~~~~~~~~~~~~~~~~~~~~~
~~~~~~~~~~~~~~~~~~~~~~~~~~~~~~~~~~~~~~~~~~~~~~~~~~~~~~~~~~~~
Company highlights, notes and more:
Creative Coffee is located in the heart of New York City. Our beans are ethically sourced from Central & South America, roasted in Queens and personally blended in Brooklyn. We're very involved in our community and have consequently decided to feature aspiring young artists' artwork on our coffee bags. We're also passionate about creating a unique experience for our consumers and are looking forward to hearing about your custom blend! Because after all, not all taste buds are created equal…
Read more and visit the website: CLICK HERE.
******************************************************************
I hope you all are enjoying and sharing our tea reviews. I love our tea loving community and as tea continues to grow and flourish so will our reviews. I plan on keeping us all informed on what is going on, what is new, what is bad and simply what is.
Please take a moment to sign up for our newsletter and follow us on Facebook, Twitter and Instagram. So much more to share and the newsletter gives us discounts, giveaways and tea company's inspirations. Don't be left out of our community.
Below I have included an instructional brewing chart to help you brew your teas.
Like us? Love us? Want a certain tea reviewed?
SEND US YOUR COMMENTS!
(So serious, write to me and tell me what you are thinking, I honestly want to hear from everyone!)
Don't forget to follow me and make sure you say Hello!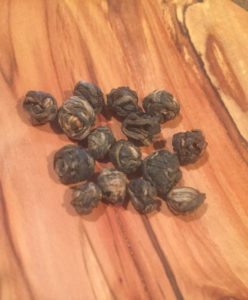 ******************************************************************
AVERAGE BREWING INSTRUCTIONS:
These are common instructions for brewing teas, however if the company suggests other brewing I will include it in the review section.
Time and Temperature Guide:
Tea Temperature Minutes
Black 95°C / 205°F 3 – 5
Oolong/White 85°C / 185°F 3 – 4
Green/Yellow 80°C / 176°F 2 – 3
Herbal/Tisanes. 100°C / 212°F 5 – 15
** As always stated by My Tea Vault, we think you should enjoy tea the way you like it, I like mine very strong with no sweetener, these are just guidelines and I suggest you use the guideline then adjust for your own tastes.