PEACH MANGO FRUIT LEATHER
DIY PEACH MANGO FRUIT LEATHER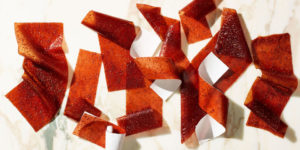 INGREDIENTS
1 c. boiling waier
2 bags Lipton Peach Mango Tea
1/4 c. sugar
1 tbsp. lemon juice
2 c. strawberries or raspberries
DIRECTIONS
1 Brew the tea. Pour the boiling water over 2 Tbs. peach mango tea and steep for 4 minutes.
2 Preheat the oven to 200 degrees F. Combine tea and sugar in a small saucepan over medium heat and reduce by half, about 6 to 7 minutes.
3 Meanwhile, puree strawberries in a food processor. Combine with tea syrup and lemon juice, and simmer until the mixture is very thick, about 25 minutes.
4 Spread the thickened mixture onto a Silpat, or non-stick baking liner like foil, into a very thin layer, using an offset spatula. Bake in the oven for 3 to 4 hours, or until the mixture is barely tacky.
5 Transfer to a cooling rack for 20 minutes. Peel off of the Silpat or foil, and if still moist on the underside, place it back on the Silpat or foil, moist side up, and bake for another 10 to 20 minutes.
6 Lay the fruit leather on a piece of wax paper, and roll up to store.
Thanks to Delish for the recipe