Product Review: Bonavita Glass Tea Brewer
Company Name: BONAVITA GLASS TEA BREWER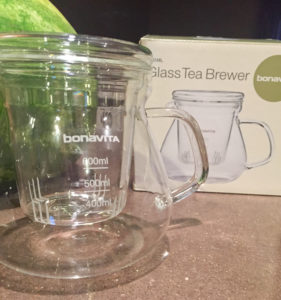 I was thrilled when the Bonavita products arrived and honestly did not know what to expect. Unwrapping was a breeze and the parts are pretty self explanatory, there are three: the glass insert, glass lid and glass carafe.
Oh, you've seen one carafe you have seen them all, ahhh but this one has a special detail that sets it apart from the rest.
If you don't read this review you are missing out, this brewer is awesome!
TEA SELECTION: GLASS TEA BREWER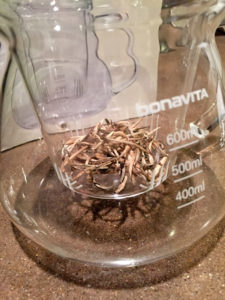 Interesting Highlights:
The glass tea brewer is anything then just another carafe. The feel of this brewer is elegant and you will think it's fragile (it is it's glass) but I dinged it a few times on my counter and it remained in tact.
The biggest thing about this carafe is the way the tea is infused. My first tea I brewed was a larger leaf silver needle and the brewing went perfect. Brewing with the Bonavita gooseneck kettle really helps the process. I then moved to something a bit more interesting, a Moroccan mint tea, which, we know is a finer tea and easily escapes the infusers (even the metal mesh ones). There was little in fact I could count on one hand the mint leaves that snuck out. Here is why: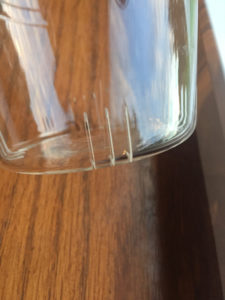 Those vertical cuts in the glass are were your tea is infused from, not a lot will escape there except for the fresh brewed tea. It's impressive.
Review: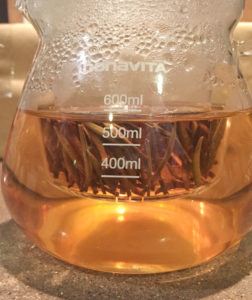 I've been wanting to review more products for our tea community and thrilled that Bonavita agreed to send me their Glass Carafe as well as the Gooseneck Kettle (see review HERE).
One thing you will notice is the markings on the glass insert that help you measure accurately the tea you plan to use.
The Bonavita Glass Brewer is made from tempered glass for stability and it worked with my ability to bang it on the counter or lid on the carafe. The sturdy lid really allowed my tea to brew and kept it warm for my second cup (or if I wanted to share with a friend). Today I brewed alone but you will be seeing the Glass Brewer in my upcoming tea reviews for sure.
It's completely dishwasher safe and I love that, easy to clean works every time.
I like the fact that it is glass, it's sterile and clean environment for our tea brewing (or coffee if you are so inclined).
Dimensions are:
Length: 6.50″
Width: 5.70″
Height: 7.68″
Cost at suggested retail is $24.99
Summary:
I was a little skeptical at first touching the Bonavita Tea Brewer but after using it a few times I was more secure in how sturdy a design it really was. It's got a beautiful look to it and I'm very impressed who well it contains those small tea pieces when brewing.
You may have one but at $24.99 I suggest you take a look at Bonavita as well as their other fine products and consider them for your next tea product upgrades. Impressive company with quality products!
~~~~~~~~~~~~~~~~~~~~~~~~~~~~~~~~~~~~~~~~~~~~~~~~~~~~~~~~~~~~~
Company highlights, notes and more:
At Bonavita, we've put in years of hard work to make it easy to brew great coffee or steep your favorite cup of tea. With our products in your kitchen, you're just a few steps away from your perfect cup.
All the research, refinement, taste-testing, awards and certifications … they all boil down to one thing, and that's giving you the power to consistently brew your ideal cup, quickly and easily.
Simple and Sublime
Good coffee and tea, like good food, begins with fresh, high-quality ingredients. Prepared correctly, these simple ingredients deliver the essential flavors and aromas that make your favorite brew unique and so special.
When freshly roasted and ground coffee is carefully combined with pure water heated to the ideal temperature, the result is a coffee experience that's at once simple and sublime. The same holds true for tea. When steeped at the appropriate temperature for the right amount of time, you will enjoy the full flavors and aromas the tea has to offer.
The Perfect Cup Anytime.
You know how good a cup of coffee can be, and so do we. Our goal at Bonavita is to build tools that help you brew great coffee everyday, whether it's a busy Monday morning or a lazy Sunday.
Our brewers, kettles, and drippers are all designed to produce the exceptional results you expect with ease, every time. Bonavita products make it simple so you can concentrate on the simple beauty of good coffee.
Recognized by the SCAA
Bonavita's coffee brewers are tested and approved by the Specialty Coffee Association of America as part of its Certified Home Brewer program. It's a certification bestowed on only a handful of exemplary machines that meet the SCAA's rigorous technical standards.
We're proud to meet the high standards of the SCAA because it means we can provide our customers with a premium coffee experience at home. Choosing Bonavita means you want the ability to brew an extraordinary cup of coffee anytime.
Read more and visit the website: CLICK HERE.
******************************************************************
I hope you all are enjoying and sharing our tea reviews. I love our tea loving community and as tea continues to grow and flourish so will our reviews. I plan on keeping us all informed on what is going on, what is new, what is bad and simply what is.
Please take a moment to sign up for our newsletter and follow us on Facebook, Twitter and Instagram. So much more to share and the newsletter gives us discounts, giveaways and tea company's inspirations. Don't be left out of our community.
Below I have included an instructional brewing chart to help you brew your teas.
Like us? Love us? Want a certain tea reviewed?
SEND US YOUR COMMENTS!
(So serious, write to me and tell me what you are thinking, I honestly want to hear from everyone!)
Don't forget to follow me and make sure you say Hello!
******************************************************************
AVERAGE BREWING INSTRUCTIONS:
These are common instructions for brewing teas, however if the company suggests other brewing I will include it in the review section.
Time and Temperature Guide:
Tea      Temperature Minutes
Black      95°C / 205°F 3 – 5
Oolong/White 85°C / 185°F 3 – 4
Green/Yellow 80°C / 176°F 2 – 3
Herbal/Tisanes.         100°C / 212°F 5 – 15
** As always stated by My Tea Vault, we think you should enjoy tea the way you like it, I like mine very strong with no sweetener, these are just guidelines and I suggest you use the guideline then adjust for your own tastes.