Product Review: Bonavita Gooseneck Kettle
Company Name: BONAVITA GOOSENECK KETTLE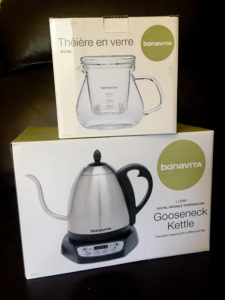 I was thrilled when the Bonavita kettle arrived and honestly did not know what to expect. Unwrapping was a breeze and the parts are pretty self explanatory however there is a handy little instruction manual that comes with that includes instructions, new times and even a section on how to make amazing coffee with your kettle. We are making tea so let's just focus on our tea kettle.
If you don't read this review you are missing out, this kettle is pretty amazing!
TEA SELECTION: GOOSENECK ELECTRIC KETTLE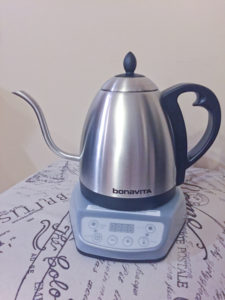 Interesting Highlights:
There is so much to like about this kettle and first off it's Stainless Steel which I love because I am not a fan of aluminum and feel stainless steel offers us a better quality brew (even in my cookware I choose stainless).
The handle, when I first picked up the kettle and felt that extra supportive notch I knew I was home! Your hand really has control over the kettle and the pour, it's great!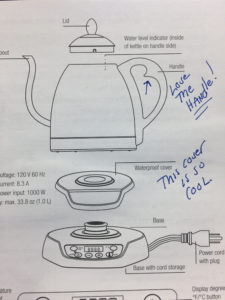 The base is really unique and there is this plastic cover that you may want to discard DON'T, it's very important to keep that and use it to protect base. Now you do not have to use it, but I choose to keep mine on.
I'll be honest, this kettle is making my Keurig take a back seat to anything I brew.
Review:
I've been wanting to review more products for our tea community and thrilled that Bonavita agreed to send me their Gooseneck Kettle as well as a Glass Carafe (see review HERE)
As read above this kettle is quality and not something just thrown together, there is a lot of thought that went into this.
The gooseneck design makes sure you are getting the warmest water first and the pour is controlled both with the handle design as well as the spout.
The heating element is FAST, that is all I can say. I played around with different degrees just to see how it heated and I filled the kettle up each time, heating took less then a couple minutes and I was thrilled. I poured my water and boom I had my tea at perfect controlled temperature. (140-212 F), there was no guessing the water temperature was controlled by me, it was set and then displayed. Any change (when I removed the kettle and put it back) was again noted on the display.
This has 1500 watts for quick heating and displays both in Fahrenheit and Celsius.
There is a 60 minute heat and hold feature too that's pretty fantastic for those all day long tea drinkers (me).
The dimensions are as follows:
Length: 11.81″
Width: 7.28″
Height: 9.25″
Cost is Suggested Retail @ $119.99
And comes with a 1 year warranty
Summary:
All in all I fell in love with the Bonavita Gooseneck Kettle and it will be a regular feature in my home and with my reviews from now on. I suggest you take a look at the product and see how well it will fit into your tea (and coffee) regime.
~~~~~~~~~~~~~~~~~~~~~~~~~~~~~~~~~~~~~~~~~~~~~~~~~~~~~~~~~~~~~
Company highlights, notes and more:
At Bonavita, we've put in years of hard work to make it easy to brew great coffee or steep your favorite cup of tea. With our products in your kitchen, you're just a few steps away from your perfect cup.
All the research, refinement, taste-testing, awards and certifications … they all boil down to one thing, and that's giving you the power to consistently brew your ideal cup, quickly and easily.
Simple and Sublime
Good coffee and tea, like good food, begins with fresh, high-quality ingredients. Prepared correctly, these simple ingredients deliver the essential flavors and aromas that make your favorite brew unique and so special.
When freshly roasted and ground coffee is carefully combined with pure water heated to the ideal temperature, the result is a coffee experience that's at once simple and sublime. The same holds true for tea. When steeped at the appropriate temperature for the right amount of time, you will enjoy the full flavors and aromas the tea has to offer.
The Perfect Cup Anytime.
You know how good a cup of coffee can be, and so do we. Our goal at Bonavita is to build tools that help you brew great coffee everyday, whether it's a busy Monday morning or a lazy Sunday.
Our brewers, kettles, and drippers are all designed to produce the exceptional results you expect with ease, every time. Bonavita products make it simple so you can concentrate on the simple beauty of good coffee.
Recognized by the SCAA
Bonavita's coffee brewers are tested and approved by the Specialty Coffee Association of America as part of its Certified Home Brewer program. It's a certification bestowed on only a handful of exemplary machines that meet the SCAA's rigorous technical standards.
We're proud to meet the high standards of the SCAA because it means we can provide our customers with a premium coffee experience at home. Choosing Bonavita means you want the ability to brew an extraordinary cup of coffee anytime.
Read more and visit the website: CLICK HERE.
******************************************************************
I hope you all are enjoying and sharing our tea reviews. I love our tea loving community and as tea continues to grow and flourish so will our reviews. I plan on keeping us all informed on what is going on, what is new, what is bad and simply what is.
Please take a moment to sign up for our newsletter and follow us on Facebook, Twitter and Instagram. So much more to share and the newsletter gives us discounts, giveaways and tea company's inspirations. Don't be left out of our community.
Below I have included an instructional brewing chart to help you brew your teas.
Like us? Love us? Want a certain tea reviewed?
SEND US YOUR COMMENTS!
(So serious, write to me and tell me what you are thinking, I honestly want to hear from everyone!)
Don't forget to follow me and make sure you say Hello!
******************************************************************
AVERAGE BREWING INSTRUCTIONS:
These are common instructions for brewing teas, however if the company suggests other brewing I will include it in the review section.
Time and Temperature Guide:
Tea      Temperature Minutes
Black      95°C / 205°F 3 – 5
Oolong/White 85°C / 185°F 3 – 4
Green/Yellow 80°C / 176°F 2 – 3
Herbal/Tisanes.         100°C / 212°F 5 – 15
** As always stated by My Tea Vault, we think you should enjoy tea the way you like it, I like mine very strong with no sweetener, these are just guidelines and I suggest you use the guideline then adjust for your own tastes.