Raspberry Coconut Paleo Bliss Balls – Recipe
RASPBERRY COCONUT PALEO BLISS BALLS
INGREDIENTS
1/2 cup raspberries, washed and dried thoroughly
8 medjool dates
1.5 cups raw macadamia nuts
4 tablespoons cashew butter
1.5 teaspoons pure vanilla extract
2 tablespoons grade B maple syrup
1/2 cup finely shredded coconut, plus an extra 1/4 cup for rolling
INSTRUCTIONS
Line a tray with parchment paper and set aside.
Place all ingredients except the extra 1/4 cup of shredded coconut in a food processor, and mix until a sticky dough forms. If the mixture is very wet, add a little more coconut and process again.
Roll into small balls, and place on the lined tray.
Place in the fridge or freezer for 10-15 minutes.
Spread the shredded coconut out on a plate or cutting board.
Remove the balls from the fridge and roll them in the shredded coconut. Use your hands to press the coconut in, so it sticks firmly to each ball.
Refrigerate for 60 minutes.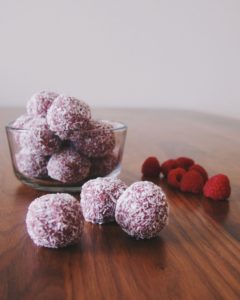 NOTES
These can be quite sticky, so I recommend cleaning your hands between each "roll" by scraping your hands down the side of the food processor, or a bowl.
Special thanks to The Lazy Paleo for the recipe!