Review – Honey Ridge Farms Honey
Tea Selection: An amazing selection of Honey
Company Name: Honey Ridge Farms
Location: Retail: Brush Prairie, WA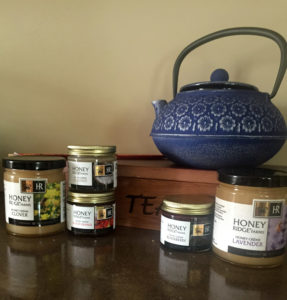 What Honey Ridge Farms says about themselves (taken from online source):
Honey Ridge Farms was built on the core belief that honey is nature's best and most delicious sweetener. Located in Brush Prairie, Washington, Honey Ridge Farms was founded in 2004 by Leeanne Goetz, who is part of an extended beekeeping legacy.
In fact, Leeanne's oldest son, Ryan, is fifth-generation and worked alongside his grandfather Edmund Varney, learning the vocation as a teenager and through college. Keeping true to traditional practices, Ryan is caretaker to 4000 colonies that pollinate a variety of crops throughout Oregon, Washington, Idaho and California. The Honey Ridge Farms family has a unique appreciation and unprecedented consideration for hive health, offering the highest quality pollination services to local farmers.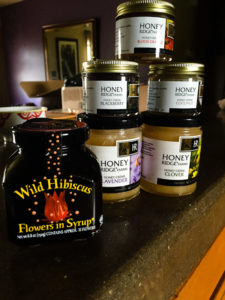 Read more about Honey Ridge Farms on their website: HERE.
What Honey Ridge Farms says about this tea:
HONEY RIDGE FARMS received Kosher certification Parve status, for the complete Honey Crème line – Blackberry, Blood Orange, Clover, Coconut, Lavender, Lemon, Lemon-Lavender, Spiced and Raspberry – by the regional kosher agency, Oregon Kosher.
This now makes possible the use of our raw whipped honey crèmes as an ingredient in other kosher food production, and can also be used in restaurants and homes that prefer or need to keep Kosher. Honey Ridge Farms' honey crème line is an ideal pantry staple for retailers and grocers to stock as a specialty Kosher item, too.
INGREDIENTS:
100% Pure Honey
COSTS: $6.00 / Box of 20 foil wrapped bags
Price may vary according to the amount purchased.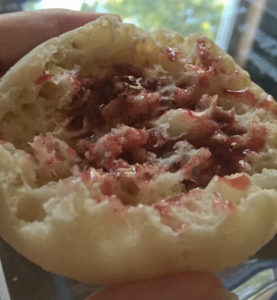 MY REVIEW BEGINS
Here is what I think
I received several honeys and I could not have had more fun or be more thrilled:
Honey Crème Clover – Raw clover honey.
The "normal" honey however there is something to be said for the Crème texture. It really makes the tea light and airy. It's a very fresh taste, creamy and just melts off the spoon.
Honey Crème Lavender – Raw clover honey, lavender, natural flavor.
This is clearly another amazing honey with a splendid zest of flavor when I added it to my muffin. It's such a light flavor of lavender in the honey and it's not over powering but just perfect.
Honey Crème Coconut – Raw clover honey, coconut, natural flavor.
I love coconut and I was excited to try this honey. I was disappointed with the coconut it had a different flavor. It has such a sweet scent and flavor but for me it was not a winner.
Honey Crème Blood Orange – Raw clover honey, blood orange, natural flavor.
I was not sure about Blood Orange flavored honey but WOW it was it really fun. It has a nice citrus flavor and that familiar crème texture that just makes this honey stand out from any other.
Honey Crème Raspberry – Raw clover honey, raspberries, raspberry concentrate, and citric acid.
This honey was the real winner for me, sweet honey and amazing raspberry flavor. The liquid citrus sweetness, Yum. It's an amazing combination and not overpowering, sweet raspberry liquid gold!
All the teas are Raw with natural flavors I love that! My Tea Vault is all about healthy and natural and this honey fits right in, it is amazing.
So, seriously a spoon and I was ready to go.
Honestly I had some tea reviews I was working on so I used the Honey Crème Clover in a tart tea to really bring the tartness down and it sure did and the clover taste really gave the tea a whole new flavor.
That kosher certification is important as well, adding another amazing ingredient into the kosher list of foods possible just makes me smile!
Honey is not "just honey" and once you taste these Honey Crème's you will see what I mean, just pick one and you will be very pleased and be back to purchase more. The flavor is amazing, and the crème process is significant to the uniqueness of these honeys.
***I have to admit my son told me to stop moaning as I spread the honey on my muffin one morning, I think I embarrassed him, but honestly, it was just THAT good!***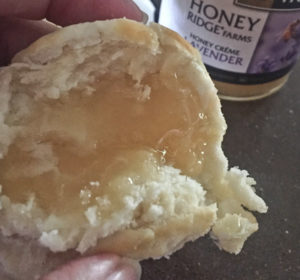 Please remember to take a look at the blog HERE
for some amazing recipes with the Honey Crème's like
Lemon – Lavendar bees knees
Overnight Honey and Oats
Coconut Honey Glazed Shrimp
Chocolate and Honey Spiced Bread and yes..
MORE!
What I liked
Loved the blue/pink magic trick with the tea.
This herbal tea brews fast, I like that, and sometimes you just do not have time to sit around a let a tea brew.
100% natural I love that as well, no fake, no fluff and no additives.
You can drink it hot or cold.
I can't wait to make ice cubes with it and add it to my water "just for fun".
What I did not like
I know I said I love the flavor of the tea but if I had to say anything I did not like it would be that some people may not believe or think they are getting something good for them without the flavor.
I can't dig too much deeper, I honestly don't have anything negative to say, it's a great tea.
*_ *_ *_ *_ *_ *_ *_ *_ *_*_ *_ *_ *_ *_ *_ *_ *_
Until next sip or taste, pinkies up and face the wind! You got this!
Like us? Love us? Want a certain tea reviewed?
SEND US YOUR COMMENTS!