Review – Pure Zen Infused Tumbler
Thrilled to review this Infused Tumbler by Pure Zen Tea, in fact more then thrilled it came at a perfect time for me when working, making a cup of tea, getting busy and headed back to my cup of tea to find it as cold as the room I am in. So sad! Was there anything out there to keep my tea warm that I did not have to plug in?
How many of us go through that? Wanting our tea to remain warm longer then the time it takes to drink it! Right!
Along comes Pure Zen Tea and it's Infused Tumbler, pure excitement.
I'm so honored to be able to review this product for you and to tell you all about it.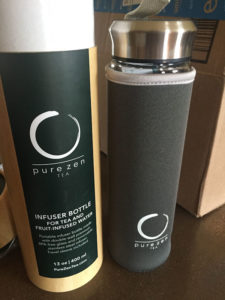 Details:
Tumbler with Infuser
neoprene sleeve for safe holding
BPA Free Double Wall Glass Travel Tea Mug
Stainless Steel Filter
Dishwasher Safe Leak proof Bottle
Strainer For Loose Leaf Tea and Fruit Water
Holds 13 Ounces
Weighs 2 pounds
Height 15 inches tall
Cost: $29.00
NOW IT"S MY TURN TO TRY IT OUT
I was so excited when the box arrived I wanted to see it and touch the bottle.
You can tell this is double walled, it feels thick and strong. The top and bottom unscrew and there are ample warnings to make sure the top and bottom are screwed on securely. It's common sense.
Before brewing I've taken the tumbler apart and checked out all the pieces.
I love the infuser, look at the small holes that allow for almost any type of tea no matter how processed. It screws securely to the lid and then to the double walled glass.
It's secure and strong. I can't wait to brew in it to see if it lives up to it's statements.
LET THE BREWING BEGIN
I used a lovely mint tisane; semi fine in it's leaves and it brews amazingly.
I put the leaves into the infuser and tighten it onto the lid
Screw the lid on and add my heated water, let it brew then remove the infuser (I bet you could leave it on if you like).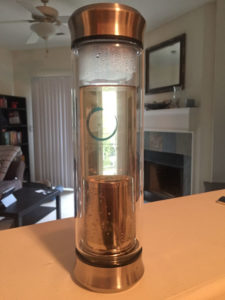 It's warm, I take the temperature at 1935 (7:35 PM) and its approx. 170 degrees, a bit too hot to sip just yet to so I allow it to sit.
**** Realize in my normal cup if I wait too long, too long would be maybe 15 minutes, my tea will be luke warm very fast. ***
It's 2008 (8:08 PM) and the temperature lowered a bit to 140 degrees and I take my first sip, delicious and very clean and fresh.
I'm slowly drinking my tea because I want to make it last at least two hours.
At 2053 (8:53 PM) my tea temperature is a lovely 120 degrees, that's over ONE HOUR LATER and I'm still enjoying a very warm tea.
At 2135 (9:35 PM) two hours later my tea is still very enjoyable at approx. 112 degrees.
And I'm THRILLED!
Now I sat here for two hours doing some other things and reviewing but the possibilities of this Tumbler is amazing.
I work 12-hour days and often I will make a cup of tea, get busy and have to dump it out and brew again. It's so disappointing. Now my tea can wait for me.
What a divine concept.
This product gets an A + from me and I suggest you get one, it does what it says it will do, it's solid and quality at a very reasonable price.
Two hours later and my tea is still amazing, as I sip away and end this review I am extremely pleased and you will be as well.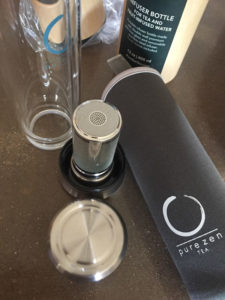 Check out the Tumbler HERE