Tea Review – Swann's Way – Liquid Proust
Tea Selection: Swann's Way
Name: Liquid Proust
Location: Retail: Columbus, Ohio
Tea Company Comments taken from their webpage:
As a tea fanatic with over 300 teas in my personal collection and drinking 10+ cups a day, it was only a matter of time before I started an online shop. My personal creation of tea blends, mixtures, and whatever else they can be called, comes from my imagination and challenging myself to do what I have yet to be seen done. While I will focus a lot of time on 'out there' blends, I will also do my best to source some straight teas at low prices just for the sake of others being exposed to them. Liquid Proust Teas would have never came bout without the community that is involved with tea. Tea is something that brings people together, and sure it has done the opposite as well but I don't focus on that, which is something I want to be part of. Success to me will not be measured in sales, rather it will be by the satisfaction and communication with my fellow tea drinkers. While I may be a owner of a tea company, I'm still a consumer myself on the search for the best!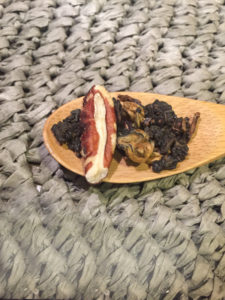 Read more about Liquid Proust on their website: Liquid Proust.
BREWING INSTRUCTIONS:
These are common instructions for brewing teas, however if the company suggests other brewing I will include it in the review section.
Time and Temperature Guide:
Tea      Temperature Minutes
Black      95°C / 205°F 3 – 5
Oolong/White 85°C / 185°F 3 – 4
Green/Yellow 80°C / 176°F 2 – 3
Herbal/Tisanes.         100°C / 212°F 5 – 15
** As always stated by My Tea Vault, we think you should enjoy tea the way you like it, I like mine very strong with no sweetener, these are just guidelines and I suggest you use the guideline then adjust for your own tastes.
INGREDIENTS:
Sunmoon Lake Black Tea
Pecans
Yunnan Black Cane Sugar
Cocoa Nibs
Vanilla Extract
COSTS: $9.00 / 30+ grams
Price may vary according to the amount purchased.
REVIEW
From Liquid Proust: Starting with the base is important and while the link between such a long read and a long session would lead to a cooked/ripe pu'erh, I ended up going a different route because of ingredients being needed for the blend. Wagering between a unique oolong or black tea took a while, but I ultimately realized I have an abundance of oolong teas coming out so I went for a black tea base. Between the choice of using an Japanese black tea or finding an African one was the first choice, however I ended up finding an interesting sunmoon lake black tea. What captured me about this tea was the depth that it could reach after a few steeps. At first it isn't the most thought provoking tea, but the potential it had made me go for it; after all, I haven't seen a sunmoon lake blend yet.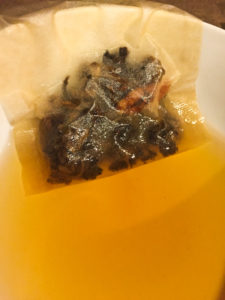 Prior to brew: hands down a grass scent.
Brewed: This tea has a mild Amber liquor.
Scent: Vegetal scent on brewed sniff.
Flavor: On first sip this tea was vegetal however it took a turn towards a more darkened flavor after the first sip.
Sentiments: This tea tastes like a tea should. It's got a strong flavor yet that dark black tea flavor we all adore. Is there sugar in there? Yes, there sure is, it's not overpowering however you can tell there is a slight sweet flavor on the end of each sip.
I have to mention that finding the ingredients on the Etsy sight is difficult but the detailed descriptions about the story of how the tea came to life is very intersting and gives a lot of meaning to the tea you are drinking.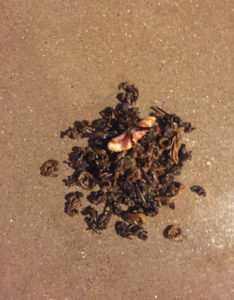 My Tea Vault score values of 1-10 (10 being the best): "9".
Till next sip…