Review Tea House – Crooked Tree – St. Charles Mo.
Crooked Tree Coffee House
St Charles Missouri
Crooked Tree Coffee
I've been taking some classes in St. Charles Missouri and I want to check out this Coffee House as well. I know that a lot of Coffee Houses are not great fans of tea, and I get that and it's okay, sort of acceptable, kinda. But us tea lovers are taking over the world and we love recognition.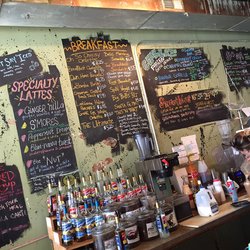 Today however I had to back way up to Tea 101.
I love an iced tea and I wanted an iced tea however the only ice tea that Cooked Tree offers is Lipton, I'm not drinking Lipton tea, so I asked if there was anything else and she showed me a container with a few teas they have for patrons to make hot tea. I told her, let's make this iced and she looked at me like I was about to perform a magic trick.
I visit Israel and if you visit any middle eastern country ice is not a commodity you get everyday, it's expensive to create and keep ice, so I learned early on how to make my own Iced tea and "beat the system" so to speak.
Here's all you do
2 bags of tea (I like a strong dark tea)
Generally I choose an Earl Grey or Breakfast Tea but you can use ANY tea to ice it.
A normal coffee cup full of hot water
A larger cup of ice
Drop the tea bags into the hot water cup, wait 3-5 minutes
take that tea mixture and poor into the ice cup.
TEA! ICED!
So, this is what I did, and I think she was rather confused but I hope she understood so next time someone is wanting a step up from a Lipton and she has the tea bags, why not go for it or at least allow her patron to make it themselves.
Now most of us that are proficient in our tea drinking get this but there are so many new people out there experiencing the world of tea it's all new to them and then need assistance and patience and they need to learn the A,B,C's of tea from the beginning
It's a journey one I am glad we share!
Tea just makes you smile!
LB