Royal Afternoon Tea | Daily Tradition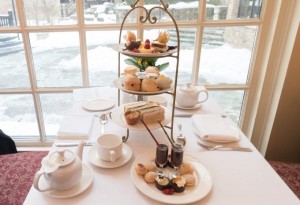 Thanks so much to Royal Central for this article on the queen and her daily devotion to tea.
At the British Royal Court, Afternoon Tea is a quintessential daily ritual. This delectable celebration of tea originated in the Victorian era, when young Queen Victoria reigned in the United Kingdom.
Tea drinking in England dates back to 1662, when it was introduced at court by Portuguese Infanta Catherine of Braganza, wife of Charles II.
Anna Maria Stanhope, Duchess of Bedford
Anna Maria Stanhope, Duchess of Bedford
However, the very British ritual of 'Afternoon Tea' as a meal found its 'raison d'être' in the dressing room of Anna Maria Russell, née Stanhope, the seventh Duchess of Bedford, one of Queen Victoria's Ladies of the Bedchamber and a lifelong friend.
Anna, who was too hungry to wait for dinner – which, in 19th century, used to be served as late as 9:30pm in the summertime – requested a little bit of bread with butter, biscuits and cakes, to enjoy with a customary cup of Darjeeling tea. She invited her friends to the dressing room, and when The Queen learnt of this activity, she instantly loved the idea. Victoria herself enjoyed having light cake with buttercream and fresh raspberries – later known as Victoria Sponge Cake – to accompany her precious spot of tea. The tradition of Afternoon Tea was born.
By late 19th century, high society ladies would gather in the drawing room, dressed in floor-length gowns, adorning themselves with long gloves and elegant hats as Afternoon Tea became quite the social affair… By this time, no longer was the ritual merely an indulgence of the upper class however, as it also spread to the middle class with tea prices becoming more affordable.
Afternoon Tea is not to be confused with High Tea, or even Cream Tea. Served between 5pm and 7pm, High Tea was a hearty meal consisting of a hot entrée, vegetables, baked goods and tea to sustain the working class after a long day's work. Cream Tea was the lightest fare with its traditional tea and scones, clotted cream and strawberry preserves. The addition of fresh strawberries made it Strawberry Tea.
Afternoon Tea was the happy medium, celebrating tea between 3pm and 5pm with an assortment of cakes, pastries, dainty sandwiches and, of course, scones with clotted cream, curd and strawberry preserves.
Served from elegant silver teapots into fine bone china teacups, Afternoon Tea and Cream Tea were set on low tables as the ladies relaxed in comfortable parlour chairs or in the garden, while High Tea was served at the supper table.
Incidentally, if Devon clotted cream is the sublime imperative, clotted creams from Dorset, Cornwall and Somerset provide delectable competition.
Today, Queen Elizabeth II begins her day at 7:30am with her breakfast tea tray. Afternoon Tea at the Palace is usually served at 4pm with scones, cakes or canapés… For Her Majesty, this is generally the one cherished moment of the day to relax and enjoy the company of her beloved corgis. Her favorite blends are Earl Grey and Darjeeling.
Should one be so fortunate as to be invited for Afternoon Tea with Her Majesty, one needs to familiarise oneself with the special etiquette required for the occasion:
• Upon first meeting with Her Majesty, one can address her as "Your Majesty" and then "Ma'am". When departing, she is to once again be addressed as "Your Majesty".
• When The Queen enters a room, proper form is to be standing.
• Only the teacup should be raised when drinking… never the pinkie finger.
• The teacup should always rest on the saucer when one is not drinking.
• One is expected to stop eating once The Queen has eaten her last bite.
An important contribution to support the tradition, healthiness and sustainable production of teatime favourites is offered by The Prince of Wales and his brand "Duchy Originals", which promotes organic food heritage. His collection features a sumptuous array of fine teas, scones, biscuits and preserves.
"The brand represents the very best of sustainably sourced and organic British products. Right from the start, preserving our heritage, upholding traditional skills and supporting our local communities were a fundamental importance to the brand," said Prince Charles.
"If that was important 21 years ago, I happen to believe it is even more so today. With accelerating climate change, exponentially rising costs of fuel and fertiliser and an unsustainably growing population, we have to find ways to live more sustainably."