Say Hello To Three Amazing Iced Teas You Need To Try
Say Hello To Three Amazing Iced Teas You Need To Try
Story of My Tea is a subscription tea company that now offers Iced Teas. I've enjoyed their success with subscription teas and now I want to share with you their step into Iced tea, welcome Hello Iced Tea.
Do not forget the Q-Code on the back of each package of tea that shares more information about the tea, the process of brewing, pairing and more. These Q-Codes are unique and adding even more knowledge of the tea you are partaking of.
**Direct link to main tea site is located below the Company Details below tea reviews!**
TEA SELECTION: Earth and Fire
https://storyofmytea.com/shop/cold-brew-iced-tea/exotic-blends/earth-ice/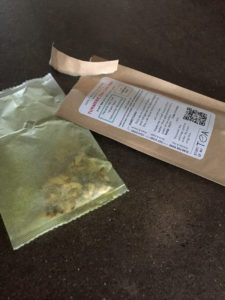 Interesting Highlights:
Shou is a process to speed up the fermentation of the tea, it includes heat, moisture and adding bacteria to the leaves to ripen the leaves which generally take a year to become finished pu-erh.
Ingredients:
Shou Puerh
Clove
Peppermint
Licorice
Review:
Earth and Ice was a great name for this tea, it was not to strong, not too weak, refreshing with a smokey somewhat minty smooth taste. There was this tingly sensation in my mouth which I believe to be more the peppermint and clove more then anything else. This tea was refreshing and thirst quenching, is as excited for morning when I could try the new tea. I thought possibly a lapsong was used for the tea but figure the smokiness I tasted came front the processing of the Puerh
Cost: $3.00 / per serving
Price may vary according to the amount purchased.
~~~~~~~~~~~~~~~~~~~~~~~~~~~~~~~~~~~~~~~~~~~~~~~~~~~~~~~~~~~~
TEA SELECTION: I Am A Gypsy
Interesting Highlights:
The next time I'll possibly brew this tea with a bit less water.
Ingredients:
Hibiscus
Lavender
Chamomile
Peppermint
Licorice Root
Review:
Beautiful red liquor with a light flavor, as stated above i'll brew with less water next time for sure. It's a citrus brew, herbal with no caffeine, safe to drink in the evening because it won't keep you up or awake. The flavor is slightly tart (ever so slight) as well as a citrus flavor. I loved the red color and loved to drink it in a wine goblet, it just looked so cool.
Cost: $3.00 / per serving
Price may vary according to the amount purchased.
~~~~~~~~~~~~~~~~~~~~~~~~~~~~~~~~~~~~~~~~~~~~~~~~~~~~~~~~~~~~
TEA SELECTION: Turmeric Cha Cha Chai
Interesting Highlights:
A year ago I'd never thought I'd try turmeric or ginger and now I love to add both of those ingredients to my teas and drinks.
Ingredients:
Organic Coconut
Turmeric
Ginger Toot
Cardamon
Cinnamon
Vanilla Bean
Black pepper
Natural – Lychee Flavor
Rose Extract
Review:
Do not let this light brew fool you, after you brew it the color is almost white, and very clear however, this tea is really an eye opener. This tea packs a punch but more a subtle spicy punch, it's a lovely wake up to tea that will awaken your senses and it's so good for you loaded with good herbs and spices.
Cost: $3.00 / per serving
Price may vary according to the amount purchased.
~~~~~~~~~~~~~~~~~~~~~~~~~~~~~~~~~~~~~~~~~~~~~~~~~~~~~~~~~~~~~
SPECIAL NOTE:
I'm a total fan of this tea company and I suggest you at least give it a try, I promise you will not be disappointed!
Here's a great offer from them as well, just click on the image to get this amazing offer that expires end of September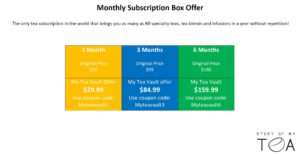 ~~~~~~~~~~~~~~~~~~~~~~~~~~~~~~~~~~~~~~~~~~~~~~~~~~~~~~~~~~~~
Company highlights, notes and more:
Read more and visit the website: CLICK HERE.
******************************************************************
I hope you all are enjoying and sharing our tea reviews. I love our tea loving community and as tea continues to grow and flourish so will our reviews. I plan on keeping us all informed on what is going on, what is new, what is bad and simply what is.
Please take a moment to sign up for our newsletter and follow us on Facebook, Twitter and Instagram. So much more to share and the newsletter gives us discounts, giveaways and tea company's inspirations. Don't be left out of our community.
Below I have included an instructional brewing chart to help you brew your teas.
Like us? Love us? Want a certain tea reviewed?
SEND US YOUR COMMENTS!
(So serious, write to me and tell me what you are thinking, I honestly want to hear from everyone!)
Don't forget to follow me and make sure you say Hello!
******************************************************************
AVERAGE BREWING INSTRUCTIONS:
These are common instructions for brewing teas, however if the company suggests other brewing I will include it in the review section.
Time and Temperature Guide:
Tea      Temperature Minutes
Black      95°C / 205°F 3 – 5
Oolong/White 85°C / 185°F 3 – 4
Green/Yellow 80°C / 176°F 2 – 3
Herbal/Tisanes.         100°C / 212°F 5 – 15
** As always stated by My Tea Vault, we think you should enjoy tea the way you like it, I like mine very strong with no sweetener, these are just guidelines and I suggest you use the guideline then adjust for your own tastes.