Simpson and Vail – Tea Review 1
Company Name: SIMPSON AND VAIL
part one of two
for part two go HERE
**Direct link to main tea site is located below the Company Details below tea reviews!**
TEA SELECTION: VICTORIAN EARL GREY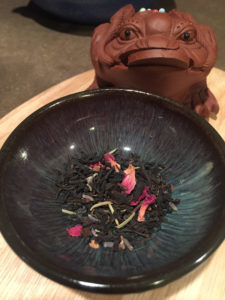 Interesting Highlights:
Earl Grey still stands as a favorite of this reviewer. This one is a bit more fun with a bit of a floral scent. This tea was my #2 pick of all 7 teas.
Ingredients:
Rose Congou black tea,
lavender petals
rose petals
rosemary
bergamot oil.
Review:
Lovely tea and you have to know about Rose Congou Tea, a black tea that is scented with rose petals during the drying process, a tea from China. Take that special infused tea add some lavender and rose petals and it's giving the typical Earl Grey a vintage taste. It's got an aged feel to it with the rose floral scent and reminds me of something our forefathers may have drank. It's amber liquor follows with no aftertaste or bitterness, you get that same earl grey flavor that followed with a citrus and rose finish.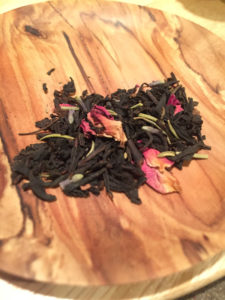 Cost: $6.80 / 4 oz.
Price may vary according to the amount purchased.
~~~~~~~~~~~~~~~~~~~~~~~~~~~~~~~~~~~~~~~~~~~~~~~~~~~~~~~~~~~~
TEA SELECTION: ALMOND SUGAR COOKIE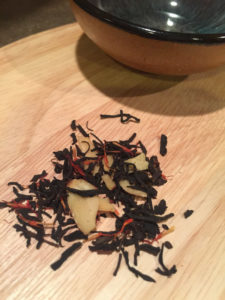 Interesting Highlights:
Almond Cookie, sweet and earthy, the closest to a true Almond Cookie tea that I've had the privilege to brew.
Ingredients:
Black teas
Almonds
Flavoring
Safflower Blossoms
Review:
The pekoe color of this tea really sets the mood as you breath in a sweet scent. This tea has a slight bitterness to it and a roasted, earthy and almond flavor, no aftertaste but a lovely almond sweet finish to this tea.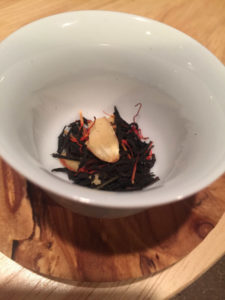 Cost: $6.40 / 4 oz.
Price may vary according to the amount purchased.
~~~~~~~~~~~~~~~~~~~~~~~~~~~~~~~~~~~~~~~~~~~~~~~~~~~~~~~~~~~~
TEA SELECTION: APPLE CINNAMON FRENCH TOAST
Interesting Highlights:
Sounded like a cereal but it tasted more like this….
Ingredients:
black teas
apple pieces
organic cinnamon pieces
apple cinnamon french toast flavoring.
Review:
I thought for sure this would taste like a cereal but there was a surprise, this tea surprises with a taste of a baked apple dumpling. How fun and with a beautiful strong cinnamon flavor. Medium amber liquor with a lovely apple cinnamon sweet flavor.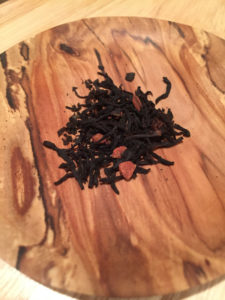 Cost: $6.40 / 4 oz.
Price may vary according to the amount purchased.
~~~~~~~~~~~~~~~~~~~~~~~~~~~~~~~~~~~~~~~~~~~~~~~~~~~~~~~~~~~~~
TEA SELECTION: JANE AUSTEN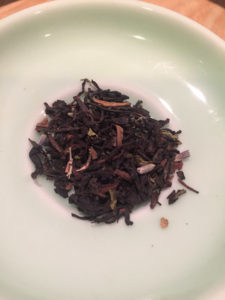 Interesting Highlights:
Jane Austen was born on December 16th, 1775. After receiving her primary education at boarding school, Jane returned home where she and her older sister Cassandra would spend long hours in their father's library reading the classics and writing their own stories. Jane had a close relationship with her father and he encouraged her creativity by supplying her with the paper and writing utensils she desired. In 1811, Jane's first novel Sense and Sensibility was published and met with immediate success. Jane Austen's novels illuminate the everyday lives of young women in the early 19th century and blend contemplative pastoral prose with witty banter and intriguing romance plots. Besides writing, she was an avid gardener who tended to her own plants late into her life.
Ingredients:
Black teas, spearmint, lavender flowers and vanilla flavor.
Review:
I had to post from Simpson and Vail the history of this tea because I believe the stories behind the teas actually have a lot to do with the tea and it's creation and I love to share them. This tea has a darker amber liquor with a nutty, deep and darker roasted flavor.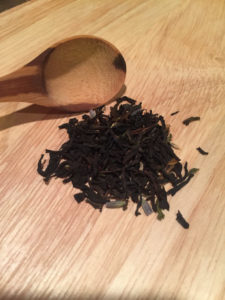 Cost: $9.75 / 4 oz
Price may vary according to the amount purchased.
~~~~~~~~~~~~~~~~~~~~~~~~~~~~~~~~~~~~~~~~~~~~~~~~~~~~~~~~~~~~~
SPECIAL NOTE:
~~~~~~~~~~~~~~~~~~~~~~~~~~~~~~~~~~~~~~~~~~~~~~~~~~~~~~~~~~~~
Company highlights, notes and more:
Simpson & Vail, Inc. is an old time tea company and was originally founded as a green coffee merchant in 1904 by Augustus M. Walbridge on Water Street in New York City as Augustus M. Walbridge, Inc.
In 1929, Mr. Walbridge sold the business to Mr. Simpson, the accountant, and
Mr.Lester Vail, the tea taster. Hence, a great business was born.
For years Simpson & Vail, Inc. was located In New York City on Water St., then Front St., then Park Place. Besides the location changes, the business grew and numerous phases occurred. From 1929 to 1962, bulk tea was the only product Simpson & Vail, Inc. carried. In 1962 roasted coffee and teabags were added. Late in 1978, Jim and Joan Harron purchased Simpson & Vail Inc., and in 1979, they added specialty food products and tea accessories as well as expanding the tea and coffee lines.
Read more and visit the website: CLICK HERE.
******************************************************************
I hope you all are enjoying and sharing our tea reviews. I love our tea loving community and as tea continues to grow and flourish so will our reviews. I plan on keeping us all informed on what is going on, what is new, what is bad and simply what is.
Please take a moment to sign up for our newsletter and follow us on Facebook, Twitter and Instagram. So much more to share and the newsletter gives us discounts, giveaways and tea company's inspirations. Don't be left out of our community.
Below I have included an instructional brewing chart to help you brew your teas.
Like us? Love us? Want a certain tea reviewed?
SEND US YOUR COMMENTS!
(So serious, write to me and tell me what you are thinking, I honestly want to hear from everyone!)
Don't forget to follow me and make sure you say Hello!
******************************************************************
AVERAGE BREWING INSTRUCTIONS:
These are common instructions for brewing teas, however if the company suggests other brewing I will include it in the review section.
Time and Temperature Guide:
Tea Temperature Minutes
Black 95°C / 205°F 3 – 5
Oolong/White 85°C / 185°F 3 – 4
Green/Yellow 80°C / 176°F 2 – 3
Herbal/Tisanes. 100°C / 212°F 5 – 15
** As always stated by My Tea Vault, we think you should enjoy tea the way you like it, I like mine very strong with no sweetener, these are just guidelines and I suggest you use the guideline then adjust for your own tastes.
SaveSave