Tapestry Tea's: Masala Cha Cha Chai, Irish Breakfast and Dream Tea
Company Name: TAPESTRY TEA
**Direct link to main tea site is located below the Company Details below tea reviews!**
TEA SELECTION: MASALA CHA CHA CHAI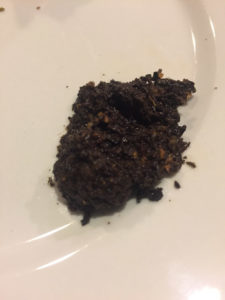 Interesting Highlights:
Loving a good chai!
Ingredients:
Spicy Cinnamon Black Tea
Cloves
Spices
Review:
Amber liquor that's mellow and sweet, this tea warms your mouth with a sweet cinnamon flavor that is wrapped in that familiar chai flavorings. It's a mild tea with no after taste and definitely no bitterness. The cinnamon is the lead flavor and the flavor that warms your mouth and senses.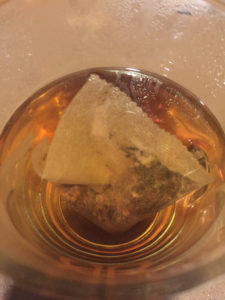 Cost: $8.99 / 20 pods
Price may vary according to the amount purchased.
~~~~~~~~~~~~~~~~~~~~~~~~~~~~~~~~~~~~~~~~~~~~~~~~~~~~~~~~~~~~
TEA SELECTION: IRISH BREAKFAST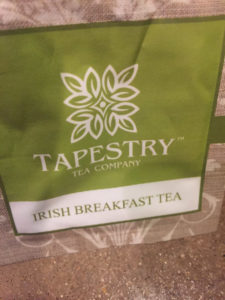 Interesting Highlights:
We've got a slight citrus flavoring here…
Ingredients:
Premium Assam Black Indian Tea
Review:
Love the malty taste of this black and dark tea. It's strong and that deep amber liquor will let you know right away you are about to delve into some dark brew. Despite being a dark brew the tea is surprisingly mellow, with a slight citrus taste.
Cost: $8.99 / 20 pods
Price may vary according to the amount purchased.
~~~~~~~~~~~~~~~~~~~~~~~~~~~~~~~~~~~~~~~~~~~~~~~~~~~~~~~~~~~~
TEA SELECTION: DREAM TEA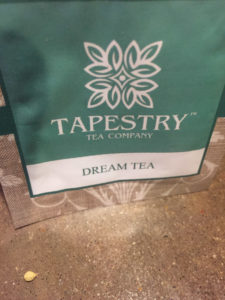 Interesting Highlights:
Seriously, look at that list of ingredients!
Ingredients:
Chamomile
Rosehips
Raspberry Leaf
Papaya Leaf
Peppermint
Spearmint
Blackberry Leaf
Passion Flower
Red Clover
Star Anise
Cherry Bark
Lemon Peel
Wintergreen
Lavender
Stevia Leaf
Vanilla Extract
Wintergreen Extract
Review:
I counted 17 ingredients, all real all natural with no "natural flavors" added. This list is a healthy list of super amazing ingredients to make one Dream Tea. The liquor is a yellow with no after taste or bitterness, mellow sweet with a strong chamomile flavor followed by a fruity and someone grassy note.
Cost: $8.99 / 20 pods
Price may vary according to the amount purchased.
~~~~~~~~~~~~~~~~~~~~~~~~~~~~~~~~~~~~~~~~~~~~~~~~~~~~~~~~~~~~~
SPECIAL NOTE:  Enjoyed this selection and looking forward to trying more of Tapestry Teas to share with you all.
~~~~~~~~~~~~~~~~~~~~~~~~~~~~~~~~~~~~~~~~~~~~~~~~~~~~~~~~~~~~
Company highlights, notes and more:
As devoted tea lovers, we hit the wall. Tired of bland teas, we searched for tasty  tea blends. Box after box, tea bag after tea bag, cup after cup, we literally searched the world for the most distinctive and delectable teas. Yet, we could NOT find anything with that perfect character. We wanted to drink classic teas infused with a zesty personality. So in order to drink FLAVOR-FILLED BREWS, there was only one thing to do….
…we created our own collection of savory solutions!..
Read more and visit the website: CLICK HERE.
******************************************************************
I hope you all are enjoying and sharing our tea reviews. I love our tea loving community and as tea continues to grow and flourish so will our reviews. I plan on keeping us all informed on what is going on, what is new, what is bad and simply what is.
Please take a moment to sign up for our newsletter and follow us on Facebook, Twitter and Instagram. So much more to share and the newsletter gives us discounts, giveaways and tea company's inspirations. Don't be left out of our community.
Below I have included an instructional brewing chart to help you brew your teas.
Like us? Love us? Want a certain tea reviewed?
SEND US YOUR COMMENTS!
(So serious, write to me and tell me what you are thinking, I honestly want to hear from everyone!)
Don't forget to follow me and make sure you say Hello!
******************************************************************
AVERAGE BREWING INSTRUCTIONS:
These are common instructions for brewing teas, however if the company suggests other brewing I will include it in the review section.
Time and Temperature Guide:
Tea Temperature Minutes
Black 95°C / 205°F 3 – 5
Oolong/White 85°C / 185°F 3 – 4
Green/Yellow 80°C / 176°F 2 – 3
Herbal/Tisanes. 100°C / 212°F 5 – 15
** As always stated by My Tea Vault, we think you should enjoy tea the way you like it, I like mine very strong with no sweetener, these are just guidelines and I suggest you use the guideline then adjust for your own tastes.