Tea Review – Blackberry Sage – Traveling Tea
Tea Selection: Blackberry Sage
Company Name: Traveling Tea
Location:               St. Louis Missouri
Brand:                    Natures Notion, LLC
Founded:              2008
Founder:               Kateri Meyer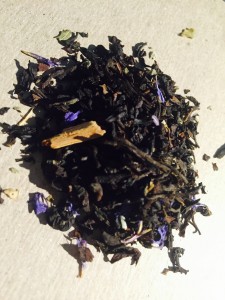 Tea Company Comments taken from their webpage:
Read more about Traveling Tea on their website:Traveling Tea
Berries are all the rage so when I saw this blackberry sage I had to give it a try, I've seen a lot of blackberry mixes, however sage, interesting.
Ingredients:
Black tea,
organic sage
blackberry flavor.
Costs at the time of this writing: not listed
Review:
So who puts sage and blackberry together? Traveling Tea has and it's really a good mix. The blackberry really overthrows the sage and is the dominant flavor however there is this deep amber flavor that you know is coming from the sage.
The color of this tea is a beautiful amber color that really glimmers. I like this tea, it's different and I like the combinations of sage with black tea and blackberry. It's fun and it's a fun tea to serve to your guests, great conversation starter.
Till next Tea….