Taste Test | Buckingham Palace | Metropolitan Tea
Tea Selection: Buckingham Palace Garden Party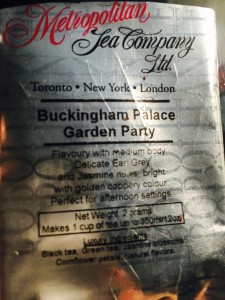 Company Name: Metropolitan Tea Company:
Their website seems to be mostly locked down unless you are a wholesale buyer, it's sad because I like to report a bit about the company as well as the tea. I can say they are into fair trade, and huge on carbon footprints doing what they can to help the environment.
When you go to their about page it's a huge list of master tea experts and other people that aide them in what they do but nothing about the company, founder or background. I wish I had more to give you, unless you are a wholesaler there is not going to be much information on the teas or the company.
Read more about Metropolitan Tea on their website: Metropolitan Tea Company 
Ingredients:
Black tea
Green tea
Jasmine blossoms
Cornflower petals
Natural flavors
Costs at the time of this writing:
Wholesale only
Review: I went to a garden party, to reminisce with my old friends.. The king, the queen and other folks.. ooo wait, sorry. But honestly the name alone says a lot about this tea. It sounds as royal as it tastes. Lovely full bodied tea that really is very smooth and soft in taste and scent. I love the fact that it has a green tea mixed with the black as well. This tea is a definite for a tea party and a positive addition to the collection. This is a very light yet creamy taste tea and the scent alone will make you close your eyes and go "ahhhhh".
Hot Tea Taste Facts:
Great and beautiful hot tea. Perfect, however I did not add any sweetener because I thought who cares, it's too good to ruin with anything in it. I did not try it iced because I honestly felt this is a perfect brewed hot tea with a full smooth body of flavor that deserves a lot of credit on its own.
Till next tea…