Tea Review – Harney and Sons Earl Grey
Tea Selection: Earl Grey
Company Name: Harney and Sons
Location: Millerton, NY
Brand:
Founded: 1983
Founder: John Harney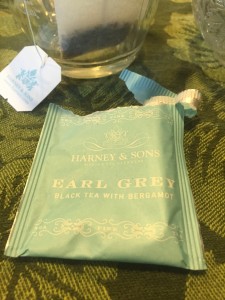 Tea Company Comments taken from their webpage:
First founded out of a love for teas over 30 years and out of his basement began his tea journey. As a Master Blender, serving teas and finding people kept returning for more. The Harney and Sons commitment is to deliver the finest quality tea possible.
Read more about Harney and Sons on their website: Harney and Sons
The Earl Grey is one of the most famous teas and this testers expertise. The Harney and Son's Earl Grey was inspired by the British Prime Minister. This blend comes from Chine and India with blended oils and Black Tea. This tea is also Kosher.
Ingredients: Black Tea, Lemony Oil of Bergamot
Costs at the time of this writing: 50 Teabags – $11.00
Review:
Of course I received an Earl Grey, it's what I am known for and I have tested many Earl Grey's. This tea is elegant and full-bodied. It's got a strong background of Black Tea but with as much of a presence of the Bergamot. The difference being the oil of the Bergamot is being used and not just the leaves. The mixture of the Bergamot and the black tea is exceptional.
Hot Tea / Iced Tea Taste Facts: Excellent hot with a very full flavor. I like to taste test these teas black but I can see this being very good with some sweetener. Iced is a bonus as well, this tea on ice is very refreshing and will satisfy a hot day craving any time!
Till next Tea….