Tea Review – Harney and Sons Egyptian Chamomile
Tea Selection: Egyptian Chamomile
Company Name: Harney and Sons
Location: Millerton, NY
Brand:
Founded: 1983
Founder: John Harney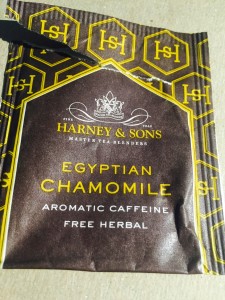 Tea Company Comments taken from their webpage:
First founded out of a love for teas over 30 years and out of his basement began his tea journey. As a Master Blender, serving teas and finding people kept returning for more. The Harney and Sons commitment is to deliver the finest quality tea possible.
Read more about Harney and Sons on their website: Harney and Sons
Chamomile from Egypt brining the best and finest of the flower.
Ingredients: 100% pure Egyptian Chamomile Flowers / no extenders only heads.
Costs at the time of this writing: 50 foil teabags – $11.00
Review:
Oh what a beautiful scent this tea had, before brewing and during. The first thing you will sense is pineapple, yes it's a citrus scent and it smells like pineapple. These teas are reviewed on their website but I avoided reading them because this is my review and it's as honest as it can get. I try not to be too opinionated and give you the facts of the tea. Once brewed the scent is not as strong yet the citrus smell is there and with each sip I still get a strong fruity taste.
Hot Tea / Iced Tea Taste Facts: I like this tea hot, it's calming and makes you just feel a weight lifted. You can ice it but I think a chamomile is more a hot easy sipping tea to calm you down after a rough day or night.
Till next Tea….