Tea Review – Harney and Sons Hot Cinnamon Spice
Tea Selection: Hot Cinnamon Spice
Company Name: Harney and Sons
Location: Millerton, NY
Brand:
Founded: 1983
Founder: John Harney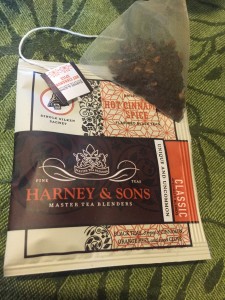 Tea Company Comments taken from their webpage:
First founded out of a love for teas over 30 years and out of his basement began his tea journey. As a Master Blender, serving teas and finding people kept returning for more. The Harney and Sons commitment is to deliver the finest quality tea possible.
Read more about Harney and Sons on their website: Harney and Sons
This tea is made from a blend of cinnamons and what surprised me the most was that it had no sugar added.
Ingredients: Three different cinnamons, orange peel and sweet cloves
Costs at the time of this writing: 20 Sachets – $9.60
Review:
This tea was very surprising from the moment I opened the packet. The strong scent of cinnamon filled the area. Before even steeping this tea began to appeal to me. Once steeped, the aroma continued to fill the air. One sip and I was sure this tea had sweetener in it, surprise it does not. This tea will cure a sugar craving for sure. It's got a very strong cinnamon flavor and that makes sense once you see it contains not one but three different cinnamons. I don't know which ones were used but I am very sure Vietnamese is in there.
Hot Tea / Iced Tea Taste Facts: I can't see using this tea as an iced tea it just has too much going for it to use an iced tea. Hot, this tea is amazing and it needs no sweetener, ever.
Till next Tea….