Tea Review – Traveling Tea Earl Grey Passion
Tea Selection: Earl Grey Passion
Company Name: Traveling Tea
Location:               St. Louis Missouri
Brand:                    Natures Notion, LLC
Founded:              2008
Founder:               Kateri Meyer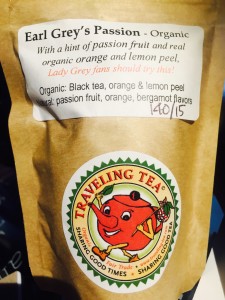 Tea Company Comments taken from their webpage:
Read more about Traveling Tea on their website: Traveling Tea
This Earl Grey, gives a bit of a tropical appeal with the addition of passion fruit, orange and lemon peels.
Ingredients:
Black tea,
orange and lemon peel,
natural passion fruit,
orange,
bergamot flavors.
Costs at the time of this writing: not listed
Review:
I love Earl Grey, in fact it's the one tea I will always choose when a company sends me their tea or review. If you can take a Ceylon or Black tea, and jazz it up to make it stand out from the crowd then you have to be doing something correct.
This Earl Grey stands out, it's different with it's tropical flair of passion fruit and then the added citrus flavors added. You still get the original bergamot flavor but with the added tropical twist. You have to try it and make sure they know Tea Vault sent you!
Till next Tea….