Tea Bag Review – For Teas Sake
For Teas Sake
Every once in a while a tea company will surprise me with a box on my patio and For Teas Sake box was a real surprise and so adorable.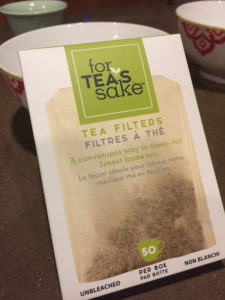 Going above and beyond just a few sample teas, For Teas Sake sent 4 full teas along with a plate and some really unique tea bags, similar to the tea bags I had been using except these are Just like Tea Bags, they close up by a draw string and perfect for a cup of tea. I loved these and will be purchasing more and I suggest you do as well. It's also stainless and the lid can serve as a dish to hold your tea.
These bags are in a box of 50 for $4.45 and well worth every penny. you will not be be lacking for an elegant and easy way to brew your tea in a cup. No infuser, no fuss.