TEA CAKE (yes, made with tea) :-)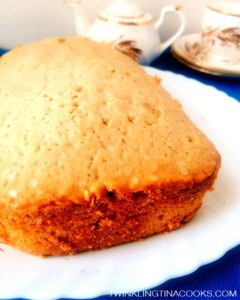 INGREDIENTS
Milk – ⅔rd cup
Tea leaves – 2 tablespoons or 5 tea bags
Unsalted butter – 180g
Sugar – 1 cup
Eggs- 3 whole eggs, at room temperature
All Purpose Flour – 2 cups
Baking Powder – 1 & ¼th teaspoon
INSTRUCTIONS
1 Pre-heat oven at 180C/350F
2 In a pan boil milk and add infuse tea leaves in it for 5 minutes
3 Strain and keep the tea in a cup
4 Cream butter and sugar with a hand mixer
5 Add eggs one by one and mix
6 In a separate mixing bowl sift in flour, add baking powder and salt in it and mix well with a fork.
7 Once the butter, sugar, egg batter is light and fluffy add in flour and tea alternately in 3 parts
8 Fold in flour mix, add little tea, again fold in flour and add tea, keep folding gently till everything is combined and incorporated well and there are no lumps.
9 Grease a loaf tin with butter and sprinkle dry flour on all the sides so that the cake doesn't stick and its easy to demold.
1 Bake at 180C/350F for 45 minutes or until a toothpick inserted in the center comes out clean.
2 Let the tea infused tea cake rest for a while and cool down before you slice and serve