Tea Cookie Review – Bimi Bakery
Tea Selection: Various Cookies and Treats
Name: Bimi Bakery
Location: Retail: Lawrence, Kansas.
Comments taken from Bimi Bakery webpage:
Bimi Bakery, born in Lawrence, Kansas in 2013, specializes in Japanese style confections inspired by Japanese aesthetics and natural ingredients. We offer both traditional Japanese confections such as mochi and steamed buns, as well as Japanese-Western style confections like cookies and cakes. Some of our featured ingredients include matcha (powdered green tea), azuki (red beans), glutinous rice powder, ginger root, sesame seeds, umeboshi (pickled plums), Japanese sweet potatoes, chestnuts, and more. These ingredients create distinct flavors and textures, which give our products a unique identity.  We hope this website helps our products reach people throughout the U.S. and help Japanese confections become as popular as Japanese sushi in the future.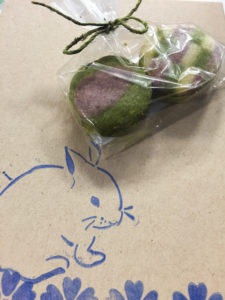 Personally: I met Bimi Bakery at the Midwest Tea Festival in Kansas City, Missouri, It was a one of a kind display with many of their products being offered for sample and from what I saw, most of those samples turned into sales as the people loved what they tasted and wanted to take a piece of Bimi Bakery home with them. I am thrilled to have been sent a sample of some of the amazing bakery products offered and to share those reviews with you.
Read more about Bimi Bakery on their website: Bimi Bakery.
PRODUCT: Sesame Seed Umeboshi (Japanese pickled plum) Cookie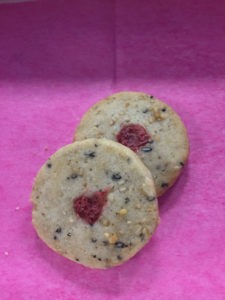 INGREDIENTS:
Flour
Butter
Sugar
Organic Brown
Black Sesame Seeds
Umeboshi
COSTS: $8.99
Price may vary according to the amount purchased.
REVIEW:
Such a fun surprising cookie. When you first bite into the cookie it reminds me of a shortbread cookie, very light, airy and buttery.. Then. You get to the center and there is this very interesting red center that when you bite into it, it sort of bites back, but not in a bad way, it's a very interesting somewhat sweet, somewhat spicy piece. I really enjoyed this cookie and it was fun to dip into my cup of tea as well.
PRODUCT: Green Tea Cookies
INGREDIENTS:
Flour
Butter
Egg
Turbinado Sugar
Powdered Sugar
Baking Powder
Sencha Green Tea
Matcha Green Tea
Dried Raspberry
COSTS: No price listed on website
Price may vary according to the amount purchased.
REVIEW
As expected with most green tea cookies this cookie had a bit of a vegetal flavor, however not as noticeable as some I have had. It's a very light and buttery cookie, that just melts away in your mouth or if you dip it in your tea, you better hurry and put it in your mouth, it's delicious but it tends to dissolve fast. Great tea cookie!
PRODUCT: Match Coconut Cookies
INGREDIENTS:
Shredded Coconuts
Egg
Butter
Honey
Sugar
Matcha Powder
Baking Soda
White Chocolate
COSTS: No price listed on website
Price may vary according to the amount purchased.
REVIEW
This cookie reminded me of brittle, it's very green as you can see in the picture and you may think you are getting a bit of brittle but it is definitely a cookie, a very light and airy cookie with a vegetal flavor with the soft undertones of coconut. It's a fun cookie to dip in a tea, share at a table of desserts the color just really is outstanding and will add a nice flare to the dessert tray!
PRODUCT: Dark Chocolate Match Cookie
INGREDIENTS:
Flour
Matcha (powdered green tea)
Butter
Sugar
Egg
Lemon juice
Powdered sugar
Dried raspberries
Dried Strawberries
COSTS: $9.99
Price may vary according to the amount purchased.
REVIEW
This is a fun cookie, look at the fun design of it. It's design reminds me of a holiday cookie and it's more like a tea cookie with a dark chocolate cream center. It's a bit light and airy however the sandwiching of the cookies together with the cream center make this a sturdy cookie, dipping it in tea is fun because the heat makes the cookies just melt in your mouth.