TEA GUYS – CITRUS MINT MELANGE, CARAMEL SEA SALT MOLASSES, CUCUMBER MINT MOJITO
Company Name: TEA GUYS TEA part II
Tea Guys Part I and Tea Guys Part III
You will find the link to "Tea Guys" after the company information!

TEA SELECTION: CITRUS MINT MELANGE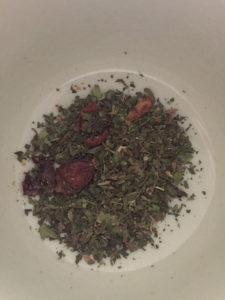 Interesting Highlights:
Interesting combination that you see once in a while however I've never had one do this before (read on)
Ingredients:
peppermint, rosehips, spearmint, lemon peel, lemon myrtle, flavors, stevia, lemon juice, citric acid, sea salt, malic acid.
Review:
Minty yet citrus, well that is what it says right?  But you don't get an even mix, what you get is a warming mint sensation on the tongue with a citrus taste that hits the back of your mouth at the same time, it's fun and funny at the same time.  It's interesting to see how this tea floats and your mouth and tongue pick out the flavors that are not masked in any way.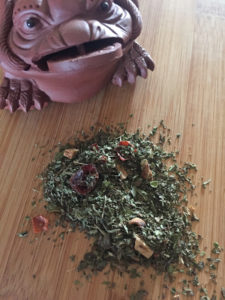 Cost: $7.95 / 3 oz.
Price may vary according to the amount purchased.
~~~~~~~~~~~~~~~~~~~~~~~~~~~~~~~~~~~~~~~~~~~~~~~~~~~~~~~~~~~~
TEA SELECTION: CARAMEL SEA SALT AND MOLASSES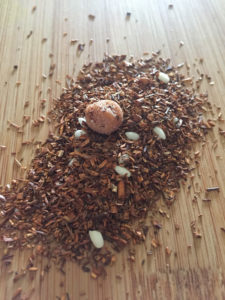 Interesting Highlights:
Again, it's not always the smell of the tea that should hook you in and you should always try to demo the teas when you can because in that brewing come the real flavors of the tea.
Ingredients:
organic rooibos, toasted rice, caramel, flavors, buckwheat (does not contain wheat), toffee bits, vanilla, sea salt, citric acid..
Review:
This tea once opened surrounded the area in a sweet caramel scent, but upon brew it was not a sweet tea and the salty taste I could not find.  It's interesting that this tea was made with a rooibos but it does the job and the caramel flavors do stand out, if you do not know what buckwheat is, make sure you check it out it's a great healthy additive to this tea.  I'm guessing those toffee bits have some sweetener in them but this tea is more of a burnt caramel slightly biter tea.
Cost: $7.95 / 3 oz.
Price may vary according to the amount purchased.
~~~~~~~~~~~~~~~~~~~~~~~~~~~~~~~~~~~~~~~~~~~~~~~~~~~~~~~~~~~~
TEA SELECTION: CUCUMBER MINT MOJITO
Interesting Highlights:
Seasonal available April – June
Ingredients:
organic green tea, peppermint, green tea, cucumber, lime pieces, lemon peel, lime juice, flavors, stevia, lemon myrtle, lemon juice, sea salt, citric acid, malic acid..
Review:
No, it's not an alcoholic drink and I'm not sure it would fair well in an alcohol, there is always room to experiment however.  This smooth minty tea is refreshing with a slight cucumber freshness.  It's smooth with no aftertaste and bitterness and honestly would taste amazing iced.  Give it a try and let me know!
Cost: $7.99 / box of tea bags
Price may vary according to the amount purchased.
~~~~~~~~~~~~~~~~~~~~~~~~~~~~~~~~~~~~~~~~~~~~~~~~~~~~~~~~~~~~~
SPECIAL NOTE:
While I do love these teas and Tea Guys produce a great variety of teas I'd love to see the teas contain less citric and malic acids.  I've never been a fan of those ingredients or the use of "flavorings" in anything really there is just too wide of a margin that is allowed by the FDA with that ingredient.
~~~~~~~~~~~~~~~~~~~~~~~~~~~~~~~~~~~~~~~~~~~~~~~~~~~~~~~~~~~~
Company highlights, notes and more:
Tea Guys is a full tea solution provider offering both hot and iced tea bags, matcha powder, bulk tea, tea concentrates, and an extremely exciting, first-of-its-kind, sparkling tea.
Sparkling teas are just the latest creation from our decades-long pursuit of the finest teas around the world. It's a natural evolution from our hand-blended tea business that continues to grow organically to an ever-expanding community of tea lovers worldwide.
It all begins with our hand-blended tea recipes. The flavor we pack into each tea bag, each sip of sparkling tea, or our own micronized tea powder is vibrant and unique.
We make every batch by hand in small lots – not because it's easier – but because it's the right way to create the product we want.
Our blending facility and store are located in Whately, MA – a small New England farming community.
Read more and visit the website: CLICK HERE. 
******************************************************************
I hope you all are enjoying and sharing our tea reviews. I love our tea loving community and as tea continues to grow and flourish so will our reviews. I plan on keeping us all informed on what is going on, what is new, what is bad and simply what is.
Please take a moment to sign up for our newsletter and follow us on Facebook, Twitter and Instagram. So much more to share and the newsletter gives us discounts, giveaways and tea company's inspirations. Don't be left out of our community.
Below I have included an instructional brewing chart to help you brew your teas.
Like us? Love us? Want a certain tea reviewed?
SEND US YOUR COMMENTS!
(So serious, write to me and tell me what you are thinking, I honestly want to hear from everyone!)
Don't forget to follow me and make sure you say Hello!
******************************************************************
AVERAGE BREWING INSTRUCTIONS:
These are common instructions for brewing teas, however if the company suggests other brewing I will include it in the review section.
Time and Temperature Guide:
Tea      Temperature Minutes
Black      95°C / 205°F 3 – 5
Oolong/White 85°C / 185°F 3 – 4
Green/Yellow 80°C / 176°F 2 – 3
Herbal/Tisanes.         100°C / 212°F 5 – 15
** As always stated by My Tea Vault, we think you should enjoy tea the way you like it, I like mine very strong with no sweetener, these are just guidelines and I suggest you use the guideline then adjust for your own tastes.
SaveSave