Tea Infuser Review – Tealyra
Tealyra
I have to give a shout out to Tealyra for the very practical and useful infuser they sent to me. I used it on their tea reviews and it was very easy to use. I liked many things about this infuser, first it could hold an abundance of tea, that is one thing that so many infuser do not take into consideration. The other thing was the fact that it had very fine holes so not a lot of tea escaped into the water. The infuser also comes with a fitted lid, I did not need it but knowing it came with one really makes this infuser just another step above the rest. It also fits into almost any cup easily.
Thank you Tealyra for sending me one of your tea products to review and add to my tea reviews. I am honored!
For $8.00 it is well worth the purchase to include in your tea collection, you will not be disappointed.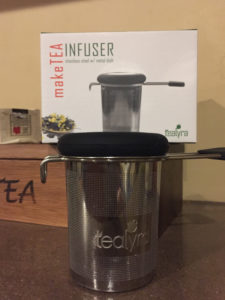 Get yours HERE.