Tea Recipe – Nam Doc Anchan – Traditional Thai Welcome Drink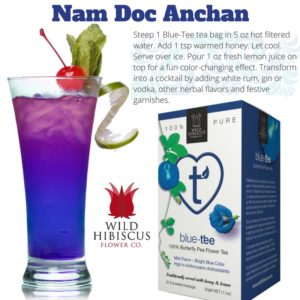 Steep 1 Blue-Tee tea bag in 5 oz of hot filters water.
Add 1 tsp warmed honey.  Let Cool.
Serve over ice.  Pour 1 oz fresh lemon juice on top for a fun color-changing effect.
Transform into a cocktail by adding white rum, gin or vodka, other herbal flavors and festive garnishes and
ENJOY!!!!
Many many thanks to Wild Hibiscus Flower Company for this amazing recipe. Wild Hibiscus a great partner in our much loved tea community we all embrace!