Tea Review – Adagio – Coconut Mint, Chocolate Chai, Lemon Soleil and Snowbud
Company Name: ADAGIO TEAS (Part One)
There is one thing I must say about Adagio and you have to check it out for yourself is their ability to give you $ off of your tea(s) at checkout by doing various little things. Their prices are already reasonable but I was thrilled to find extra things I could do to reward myself even more.
One more thing, when your order is placed you will get continuous updates as to where your tea is along the way and then placed at your door. I love this tracking feature.
TEA SELECTION: COCOMINT GREEN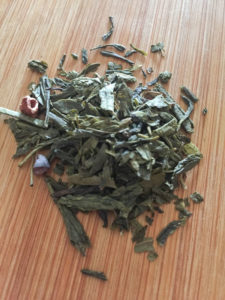 Interesting Highlights:
I've seen a few Coco Chia's and Mint Chia's but this is the first Cocomint Green Tea I have seen, I was curious and had my ideas of what it would be like, fortunately I was wrong.
Ingredients:
Green Tea
Cocoa Nibs
Chocolate Mint Flavor <— not just "natural flavors" but details what flavor is added +++
Peppermint Leaves
The Scent or Aroma:
Unique scent that is mildly reminiscent of a grandmothers house, there is a slight aroma of something baking as well as a mild chocolate scent.
Review:
Not one flavor stands out in this lovely mixture, they all just seem to blend together to make a beautiful fragrance. Honestly it's like a minty grassy hay mellow tea. I know that does not sound as amazing as I describe but it's actually very smooth and malty.
Cost: $8.00 / 3 oz.
Price may vary according to the amount purchased.
********************************
TEA SELECTION: CHOCOLATE CHAI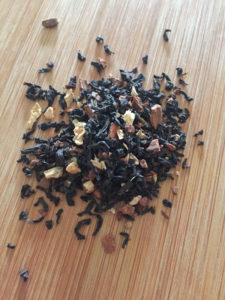 Interesting Highlights:
Reminds me of Christmas but isn't that what chai does or is it just the cinnamon?
Ingredients:
Black Tea
Cinnamon Bark
Ginger Root
Cocoa Nibs
Natural Cinnamon Flavor <— not just "natural flavors" but details what flavor is added +++
Natural Chocolate Flavor <—not just "natural flavors" but details what flavor is added +++
The Scent or Aroma:
Honestly smells like chocolate chai, but not a milk chocolate but more the cacao or dark unsweetened variety.
Review:
I enjoyed this mellow tea and it's amazing variety of cinnamon, cacao and black tea (a long with a few other things). It's a tea that has to be tried to be appreciated and the palate really plays into the ingredients and what will stand out. I love the little extra charge the ginger plays in this tea, it's not overwhelming but you know it's there.
Cost: $8.00 / 3 oz.
Price may vary according to the amount purchased.
********************************
TEA SELECTION: LEMON SOLEIL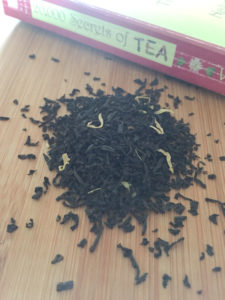 Interesting Highlights:
Reminds me of a Pekoe tea, but don't think tea with lemon in it, it's a darker brew that has a fresh flavor.
Ingredients:
Ceylon Tea
Lemon Flavor <— not just "natural flavors" but details what flavor is added +++
The Scent or Aroma:
You will smell a lemon scent when you first open and then brew this tea, from there, the taste just takes you to a different level.
Review:
This tea is a dark brew a more wake up and get that day going. Lemon Soleil may be a dark tea but it's a mellow tea with a unique flavor and a slight bitterness. The lemon flavor does not take over the tea but adds to it.
Cost: $7.00 / 3 oz.
Price may vary according to the amount purchased.
********************************
TEA SELECTION: SNOW BUD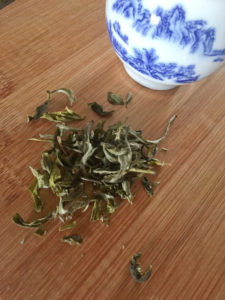 Interesting Highlights:
Loved the larger leaves on this tea
Ingredients:
White tea from Fujian providence of China.
The Scent or Aroma:
A slight grassy scent (but don't let that fool you)
Review:
OMy first guess was a silver leaf tea (I don't read labels prior to review). A lovely white tea from China mellow with. A slight alfalfa taste. It's a light brew with no after taste or bitterness, very smooth.
Cost: $9.00 / 1 oz.
Price may vary according to the amount purchased.
********************************
Company highlights, notes and more:
Generally I search the website to find the "about us" page but this was far more interesting.. a ban yourself page, ban yourself from the goodness Adagio has to offer.
I spoke with Adagio about how often it is use and their response was:
"As for our "ban-me" page it does not get used very often, perhaps 1-2 times a month."
I really liked the uniqueness of the Control Yourself page but so glad it's not needed that often, I mean honestly, who needs to ban themselves from tea? Not I for sure!
control yourself
I, Lisa, request that I be excluded from and not be allowed to enter Adagio Teas' properties. I acknowledge that the website from which I am banning myself is awesome, and the teas within delicious, and I acknowledge that this ban will include websites that are opened or acquired after the date of this request. I acknowledge that this self-exclusion shall keep me from viewing all of Adagio's gourmet teas and beautiful teaware, and I shall not be permitted to enter or return to any of Adagio's store locations. This temporary ban shall apply to all parts of the website, including teas, teaware items, pantry, signature blends, as well as gifts. The words "Adagio" and "Adagio Teas" as used in this form include the website, physical stores in the Chicagoland area, and Laurence Tureaud (aka. B.A. Baracus).
Read more and visit the website: CLICK HERE.
******************************************************************
I hope you all are enjoying and sharing our tea reviews. I love our tea loving community and as tea continues to grow and flourish so will our reviews. I plan on keeping us all informed on what is going on, what is new, what is bad and simply what is.
Please take a moment to sign up for our newsletter and follow us on Facebook, Twitter and Instagram. So much more to share and the newsletter gives us discounts, giveaways and tea company's inspirations. Don't be left out of our community.
Below I have included an instructional brewing chart to help you brew your teas.
Like us? Love us? Want a certain tea reviewed?
SEND US YOUR COMMENTS!
(So serious, write to me and tell me what you are thinking, I honestly want to hear from everyone!)
Don't forget to follow me and make sure you say Hello!
******************************************************************
AVERAGE BREWING INSTRUCTIONS:
These are common instructions for brewing teas, however if the company suggests other brewing I will include it in the review section.
Time and Temperature Guide:
Tea      Temperature Minutes
Black      95°C / 205°F 3 – 5
Oolong/White 85°C / 185°F 3 – 4
Green/Yellow 80°C / 176°F 2 – 3
Herbal/Tisanes.         100°C / 212°F 5 – 15
** As always stated by My Tea Vault, we think you should enjoy tea the way you like it, I like mine very strong with no sweetener, these are just guidelines and I suggest you use the guideline then adjust for your own tastes.