Tea Review: Angry Tea Room – Sangria
Tea Selection: Sangria
Company Name: Angry Tea Room
Location: The Angry Tea Room is an online tea company with an attitude.
Founder(s): Sharon G., Sharon M.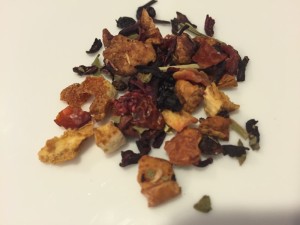 Tea Company Comments taken from their webpage:
The question we get asked most is, "What's with the name?" Our answer? When life pisses you off, that's the best time to break out the vodka. But let's be honest… sometimes you just can't hit the bottle when you want to. But it's ALWAYS time for a soothing cup of tea!
We are tea lovers. We've been there, done that, and have gotten pretty angry along the way. We've had jobs. We've had spouses. We've had kids. You know that all of them make you a total loon at some point until you can't keep it bottled up any more and you start slamming a kid's plastic golf club on the front stairs screaming at the top of your lungs, "I HAVE HAD IT!!"
Their motto: We Understand..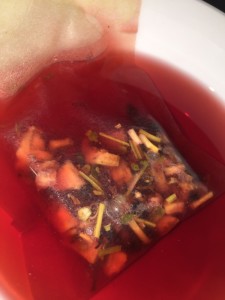 Personally: I ran into The Angry Tea Room on social media and contacted them about their tea. They were more then happy to send me a few samples to share with all of you. Of course I was curious about the name and the Logo is just as interesting as the teas. They are unique and different with an edge and the descriptions of the teas are fun to read and these folks, are real, they have been there, done that as they say and it shows in their products and descriptions.
Read more about Angry Tea Room on their website: Angry Tea Room.
INGREDIENTS:
Hibiscus
Apple
Orange Peel
Rose Hips
Elderberries
Carrots
"Flavors"
Orange Slices
Lemon Grass
Raspberries
Beet Powder
Raspberry Fruit Powder
Freeze Dried Grapes
COSTS: $14.00 / 8 ounces
Price varies according to how much you purchase.
REVIEW
Prior to brew: Sangria smells like a bowl of ripened fruits and that about matches the ingredient list. (I do not look at ingredients prior to reviewing teas)
Brewed: What a bright red color, very vibrant and yes, very Sangria looking.
Scent: This is a strong tea with an interesting scent.
Flavor: The flavor of this tea comes off a bit sour (I do not sweetened my teas for review) and not one scent stands out among the mix.
Sentiments: I believe if you are looking for a non-alcoholic comparison for a Sangria this would be it, adding some honey and you are going to be very close to the Sangria Drink. Add Honey and wow, you've got yourself a healthy substitute!
My Tea Vault score values of 1-10 (10 being the best): "7".
Till next Tea….
Pinkies up!