Tea Selection: Earl Grey White
Company Name: Angry Tea Room
Location: The Angry Tea Room is an online tea company with an attitude.
Founder(s): Sharon G., Sharon M.
Tea Company Comments taken from their webpage:
The question we get asked most is, "What's with the name?" Our answer? When life pisses you off, that's the best time to break out the vodka. But let's be honest… sometimes you just can't hit the bottle when you want to. But it's ALWAYS time for a soothing cup of tea!
We are tea lovers. We've been there, done that, and have gotten pretty angry along the way. We've had jobs. We've had spouses. We've had kids. You know that all of them make you a total loon at some point until you can't keep it bottled up any more and you start slamming a kid's plastic golf club on the front stairs screaming at the top of your lungs, "I HAVE HAD IT!!"
Their motto: We Understand..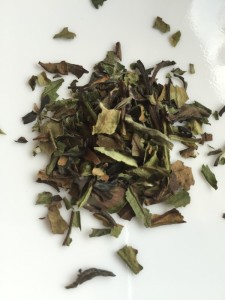 Personally: I ran into The Angry Tea Room on social media and contacted them about their tea. They were more then happy to send me a few samples to share with all of you. Of course I was curious about the name and the Logo is just as interesting as the teas. They are unique and different with an edge and the descriptions of the teas are fun to read and these folks, are real, they have been there, done that as they say and it shows in their products and descriptions.
Read more about Angry Tea Room on their website: Angry Tea Room.
INGREDIENTS:
Chinese Mutan White Tea
Oil of Bergamot
COSTS: Tea is not active on their current website.
Price varies according to how much you purchase.
REVIEW: Well it's an Earl Grey which by all standards is my favorite scented tea. This tea has all the requirements of an Earl Grey however it does not look like a typical Earl Grey.
Prior to brew:   Surprisingly the Earl Grey scent is very strong and stands out.
Brewed: This is a light yellow brewed tea. Unusual for an Earl Grey.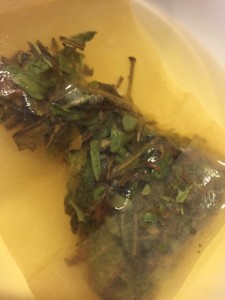 Scent: This Earl Grey has a slight vegetal underscore to it.
Flavor: A bit of a twist on the old. Earl Grey with that same refreshing Bergamot scent and flavor yet the slight vegetal flavor of the white tea.
Sentiments: The white tea in this mixture adds a bit of a filter to the Earl Grey giving it a bit of a softer touch and adding a vegetal taste to the bergamot. I'm an Earl Grey fan it's my favorite tea and this tea really gives the Earl Grey family yet another way to celebrate.
My Tea Vault score values of 1-10 (10 being the best): "8".
Till next Tea….
Pinkies up!