Tea Review: Attari Tea Stress Reliever and Saffron Sugar Stick
Tea Selection: Stress Reliever
Company Name: Attari Tea Co
Location: Washington, D.C.
Founder: 2016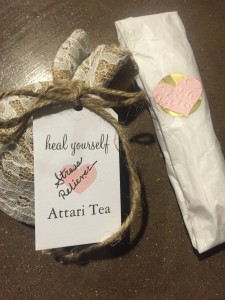 Tea Company Comments taken from their webpage:
Our passion is crafting healthy, artisanal teas inspired by the traditional attars (herbalists) of Iran. Named after Farid ud-Din Attar, a renowned 12th century mystic poet and alchemist, attars prescribed the unique healing properties of wild herbs, spices, and botanicals growing in the countryside of ancient Persia.
The Attari Tea collection helps support the body's natural ability to combat the wear and tear of daily life. All teas are made with the finest ingredients and hand-blended with love.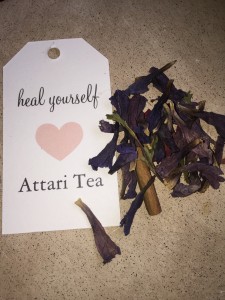 .
Personally:
I contacted Attari about a tweet they put out about a saffron sugar stick and wanted to know where to get it, they responded with sending me a sample of their tea as well as sample of the Persian Rock Candy. What an incredible idea to mix the sweetening power with saffron and to add to a tea or as they suggest even by it's self in hot water.
Their site is simple and very easy to maneuver and they seem to focus on five teas that offer you a personal aid if needed but this reviewer does not believe that is the only reason to buy their teas.
Read more about Attari Tea Company on their website: Attari Tea.
INGREDIENTS:
Borage flowers
Rose Petals
Mint
Dried lime
Cinnamon Sticks
Coriander
COSTS: 15.98
Size is not mentioned
REVIEW:
Prior to brew: There are some big buds in this tea as well as nice size pieces of cinnamon. You are not going to be able to smell much prior to brew and that is normal with a lot of herbal teas.
Brewed: Brewing was easy and it's got a very light brown hue to it. On first smell is the cinnamon but as you lift the cup closer to your nose you can smell the rose and mint combination. It's a very good mix, as one smell does not over power the other.
Scent: It's a floral scent with a hint of mint.
Flavor: I took a few sips and found the tea to be lovely, very soft on the palette. I would have to say it is stronger on the rose flavor then any other but you can definitely taste the cinnamon and mint as well. I did not taste the lime but I believe (just as true when you add lime) it just ads to the dynamics of the tea.
I also received a saffron stick that was wrapped in paper. An interesting combination of saffron and sugar and I used the stick to sweeten my tea. From shipping most of the saffron had fallen off but it still did not take away from the flavor boost. As the stick melted the saffron came off into the tea and added to the flavor. Oh a fun part, pull the sugar stick out and lick it. It's really an overpowering sugar with tea sensation.
Sentiments: The tea came in a very cute lace covered burlap bag; the tea is loose inside the bag so be careful when opening. It's a bit difficult to get out of the bag by the teaspoon however if you pour the contents into a container it's much easier to get a variety of tea in your cup.
I found the tea a lot of fun; I was dismayed a bit by the packaging of it as it was shipped in unsealed packages. However the tea is a good tea and very soothing. I'm not a big fan of sugar but that is just my preference as I feel it takes away from the nature of the tea, but had to try a sugar stick with saffron, I do not believe the saffron added much to the tea and may actually be more un in just a cup of hot water.
My Tea Vault score values of 1-10 (10 being the best): "7" on tea and a "9" on originality.
Till next Tea….