Tea Review Blue Chai (yes it's blue) Tea
Tea Selection: Blue Chai
Company Name: Blue Chai
Location: BlueChai now runs the only online tea shop to sell premium dried butterfly pea exclusively with happy customers from all around the world.
Founder: Stefan (2014)
Tea Company Comments taken from their webpage:
 Bluechai is an online teashop focusing entirely on teas and tisanes, which are unique and curiously special. The flagship tisane is Bluechai's blue flower tea made from 100% organic dried butterfly pea flowers, harvested daily during bloom in the early morning hours and then sun-dried, no chemicals are used in the process.
Bluechai is your a purveyor of special tea blends created from organic butterfly blue pea flowers, lemongrass, bael fruit, hibiscus and pandan leaves.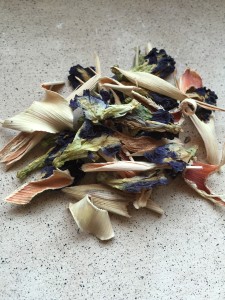 Personally:
I first saw Blue Chai and knew I had to try it, it's different yet it's organic and natural and that made it even more. Blue Chai offered to send My Tea Vault a Sample and I was more then happy to receive it. I love that drinking Blue Chai has antioxidant proanthocyanidin to improve blood flow trough the capillaries of the eye, as well as improving cell health and is an antioxidant stronger then vitamin E.   I love the fact that they take care of their farmers because growing an organic product takes more time and effort. BlueChai sells other teas as well that are as interesting as the blue chai. Take time to check them out and enjoy some amazing Blue chai, well worth it.
I checked out a blog post by Eater about Butterfly Pea Flower and found that it is used by bartenders to add blue to some of their drinks as well as by BlueChai and their unique blue chia tea. Check out the Eater post HERE
Read more about BlueChai on their website: Bluechai.
INGREDIENTS:
100% organic butterfly pea flowers
Lemongrass
COSTS: 14.89
Price varies according to how much you purchase.
REVIEW: Handpicked and organic, I love the whole aspect of organic and caffeine free. There is an entire page of images of the Butterfly Pea flowers.
Prior to brew: The buds are big on this and I noticed you do not need a lot of the tea to make the deep blue color. I believe this tea can also be used to dye fabrics. So be careful if you get any on your clothing.
Brewed: Deep Blue Shade that indeed turns purple when adding lemon.
Scent: Very slight vegetal scent, hardly noticeable.
Flavor: Before adding lemon it's a slight (very slight) vegetal flavor with a woody early undertone, after the lemon is added the flavor changes to a strong lemon flavor with a smooth undertone developing. This makes an interesting iced tea and cooling the tisane brings back the vegetal and woody flavor mixed with the lemon. It's a very interesting combination.
Sentiments: This tea is not only fun it is unique and genuine. It's not full of fluff but just two natural elements that make a tea that people will question and talk about. I thought this would be a great tea for so many occasions and I think you will be anxious to use it.
My Tea Vault score values of 1-10 (10 being the best): "8" on tea and a "9" on originality.
Till next Tea….