Tea Review – Calm Your Shit Down – The Hermits Lamp
Tea Selection: Calm Your Shit Down
Name: The Hermits Lamp
Location: Toronto, Ontario
Owner: Andrew McGregor
Tea Company Comments taken from their webpage:
My name is Andrew McGregor and I have helped thousands of people through reading the tarot over the last 12 years. Reading the cards is my thing, my super power, and my passion. It is the tool I use to help people build the life they want to lead. When I read the cards for people I help them understand who they are, what they need to do to enjoy their lives and be successful and I help them plan how to manifest the life they want.
Simply put I can help you align your sacred self with your daily life.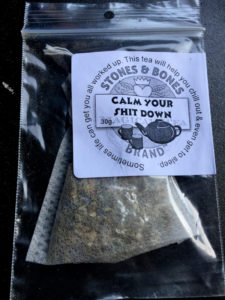 Personally:
I was introduced to The Hermits Lamp through social media when I saw Andrew list one of his teas so I sought out his teas to do a review.
I am thrilled to be able to introduce to you the teas he sent me.
The site is more of a tarot reading specialty store of supplies for a spiritual journey of awareness and making your space a better place, which includes an amazing variety of teas to help with the journey you are on!
Read more about The Hermits Lamp on their website: HERE
Direct link to this tea:  HERE
BREWING INSTRUCTIONS:
These are common instructions for brewing teas, however if the company suggests other brewing I will include it in the review section.
Time and Temperature Guide:
Tea      Temperature Minutes
Black      95°C / 205°F 3 – 5
Oolong/White 85°C / 185°F 3 – 4
Green/Yellow 80°C / 176°F 2 – 3
Herbal/Tisanes.         100°C / 212°F 5 – 15
** As always stated by My Tea Vault, we think you should enjoy tea the way you like it, I like mine very strong with no sweetener, these are just guidelines and I suggest you use the guideline then adjust for your own tastes.
INGREDIENTS:
 Chamomile
Lavender
Spearmint
Valerian Root
COSTS: $6.00
Price may vary according to the amount purchased.
Comments from website about this tea: 
Sometimes life can get you all worked up. This tea will help you chill out & even get to sleep.
Add 1 tsp. to 1 cup hot water. Pray while steeping for 10 minutes. Sweeten to taste. Herbs may interact with medicines or conditions consult physician first.
REVIEW
Brewed: Sweet tea with a light liquor.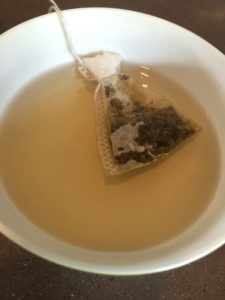 Scent: Vegetal tea with a light sweet fragrance.
Flavor: The mint in this tea warms your mouth as it mixes with the notes of lavender to bring a peaceful calm over you. No sweetener is added but the peppermint brings it's own sweet as our to the mix. Great tea to calm down with or to clear out your morning!
Sentiments:
Okay seriously, the name of this tea says it all! Made me giggle. This is a more vegetal tea with a very sweet fragrance and a good tea to warm the soul and throat on a cold day or one of those mornings you just can't seem to get your throat clear.
My Tea Vault score values of 1-10 (10 being the best): "7".
Till next sip…