Tea Review – China Mist – Tropical Orange, Coconut Pineapple, Berry Hibiscus
Company Name: CHINA MIST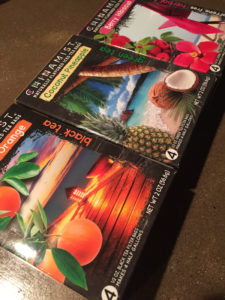 TEA SELECTION: TROPICAL ORANGE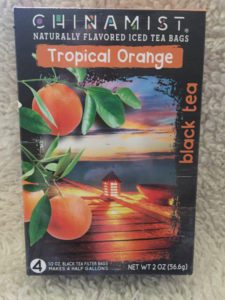 Interesting Highlights:
The tea leaves and flavorings in this tea are ground very fine.
Ingredients:
Black Tea
Natural Flavorings (natural orange flavor)
Review:
Cost: $5.99 / box (makes 2 gallons iced tea)
Price may vary according to the amount purchased.
********************************
TEA SELECTION: COCONUT PINEAPPLE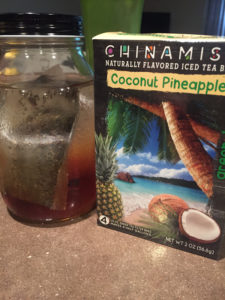 Interesting Highlights:
Interesting Highlights:
I'm not sure if essential oils are used or what type of flavorings these are that are added and it may add up to the artificial taste I was getting during my review.
Ingredients:
Green tea
Natural flavorings (natural coconut and natural pineapple flavorings)
Review:
Very light flavor that is mild and tropical, there seems to be a bit of an artificial taste to me and I'm not sure where it is coming from (see ingredients). Possibly the bag or the plastic bag the tea bags are sealed in. It's a nice tea, it's iced and very easy no mess to preparing it. Simply drop the filter into the water and cool.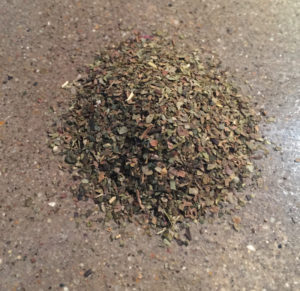 Cost: $5.99 / box (makes 2 gallons iced tea)
Price may vary according to the amount purchased.
********************************
TEA SELECTION: BERRY HIBISCUS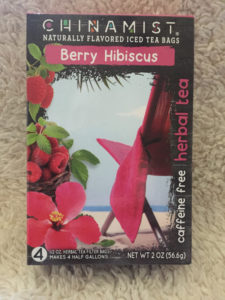 Interesting Highlights:
Just not a fan of citric acid (see all my tea on the go reviews) in our tea products, it's used to preserve, but I feel it just leaves a bit of an unnatural flavor to the teas.
Ingredients:
 Hibiscus flowers
strawberry leves
citric acid
raspberry powder
REB A (Stevia extract)
Review:
This tea is sharp and on the tart side as with most berry teas I have tasted, you may want to add sugar to this, as you know I do not review teas by adding sugar I review them as they are and let you know. So add a sweetener if you like. The raspberry flavoring really stands out to me on top of the other ingredients. Again I get that bit of artificial taste.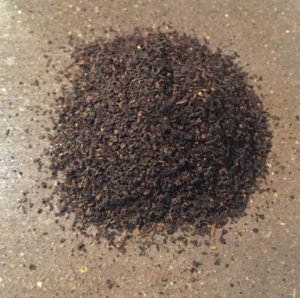 Cost: $5.99 / box (makes 2 gallons iced tea)
Price may vary according to the amount purchased.
~~~~~~~~~~~~~~~~~~~~~~~~~~~~~~~~~~~~~~~~~~~~~~~~~
Company highlights, notes and more:
Hello From Scottsdale
We admit it. We're bonafide iced tea fanatics, but not in the snobby sense. From day one, we've been driven to create the best tasting iced teas and offer the best iced tea program in the foodservice industry.
Our Story
"If you can imagine it, it can be done."
Back in 1982, two out-of-the-box thinkers forever changed the landscape of restaurant iced tea. Dan Schweiker and John Martinson wanted to disrupt the iced tea business. Low-quality teas that were the norm, just didn't cut it. So they went to work.
With tenacious spirits and the help of new, emerging tea brewing technology, Dan and John embarked on a mission to make and distribute the first-ever gourmet, fresh-brewed iced teas for restaurants.
After mixing and tasting numerous different tea leaf combinations, they hit on the perfect combination for iced black tea. So they started blending and packaging it from Martinson's garage and distributing it themselves around the state. Three years later, Rommie Flammer, a plucky, local high-schooler joined the company and began moving up.
And here we are, 32+ years later with our founders, still driven by that same optimism and tenacity to create the best tasting teas you'll ever experience.
"Success is steeped in shaking up the status quo."
Why The Name China Mist
It's a quick little story actually… that goes something like this:
Take the birthplace of tea (which is China) and pair it with the cool, mystical presence of misty mountains, and voila, you have China Mist.
Read more and visit the website: CLICK HERE.
******************************************************************
I hope you all are enjoying and sharing our tea reviews. I love our tea loving community and as tea continues to grow and flourish so will our reviews. I plan on keeping us all informed on what is going on, what is new, what is bad and simply what is.
Please take a moment to sign up for our newsletter and follow us on Facebook, Twitter and Instagram. So much more to share and the newsletter gives us discounts, giveaways and tea company's inspirations. Don't be left out of our community.
Below I have included an instructional brewing chart to help you brew your teas.
Like us? Love us? Want a certain tea reviewed?
SEND US YOUR COMMENTS!
(So serious, write to me and tell me what you are thinking, I honestly want to hear from everyone!)
Don't forget to follow me and make sure you say Hello!
******************************************************************
AVERAGE BREWING INSTRUCTIONS:
These are common instructions for brewing teas, however if the company suggests other brewing I will include it in the review section.
Time and Temperature Guide:
Tea      Temperature Minutes
Black      95°C / 205°F 3 – 5
Oolong/White 85°C / 185°F 3 – 4
Green/Yellow 80°C / 176°F 2 – 3
Herbal/Tisanes.         100°C / 212°F 5 – 15
** As always stated by My Tea Vault, we think you should enjoy tea the way you like it, I like mine very strong with no sweetener, these are just guidelines and I suggest you use the guideline then adjust for your own tastes.