Tea Review – Citrus Delight – For Teas Sake
Tea Selection: Citrus Delight
Company Name: For Teas Sake
Location: Based in Toronto Canada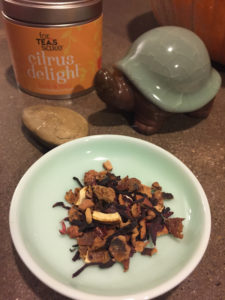 What For Teas Sake says about themselves (taken from online source):
That's the short answer as to why we created For Tea's Sake but as with most things, it runs much deeper than that. At its foundation is the passion and love for the world's most universally enjoyed beverage. It's the understanding of how the simple act of enjoying a delicious cup of steeped tea, whether alone or with friends, brings comfort and solace to the mind, body and soul. It is an appreciation for the artistry involved in creating unique and distinctive blends. With all of this in mind, we embarked on a journey to master the art of custom blending teas.
Without question, we knew to achieve the type of blends worthy of this mission; we must start with the world's highest quality teas. That's why For Tea's Sake's blends are globally sourced from tea farms throughout the world. To ensure nothing but the highest quality tea leaves are included with our blends we select only the top 5% of each crops' yield. These quality teas are hand-blended with other natural ingredients such as fruits and herbs to deliver a truly satisfying and memorable tea experience.
Our mission has taken us all over the world; learning more about each specific regions tea specialty but also the cultural significance tea plays in each. We were enlightened by the knowledge imparted by masters of their craft and learning that each country and region offered their own unique teas and flavors.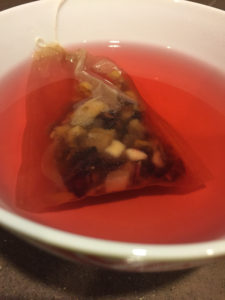 Read more about For Teas Sake on their website: HERE. https://www.forteassake.com
What For Teas Sake says about this tea:
You won't regret brewing a steamy cup of this citrusy, orange fruit tea. Pretty rose and hibiscus petals enhance both the look and the flavor making this blend a delight for the senses.
INGREDIENTS:
Apple pieces, rosehip, orange pieces, hibiscus, Dehydrated fruits and herbs are perfect for kids Delicious iced.
COSTS: $12.95 / one time purchase of 3.5 oz.
Price may vary according to the amount purchased.
MY REVIEW BEGINS
Here is what I think
Sangria was the first thought after the first smell. This would make an excellent non alcoholic drink (iced).
What I liked
Love the fact that this tea is "bits and pieces". I love a tea that is not dust and this tea as well as all the teas I have reviewed for For Teas Sake. It's a quality "tea". But more a tisane but still a delightful drink that is not too tart, mellow to a smooth finish.
What I did not like
Great drink with no complaints from this reviewer.
Until next sip pinkies up and face the wind! You got this!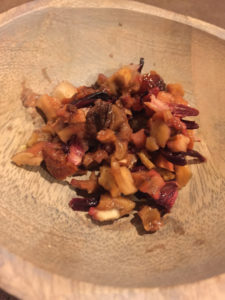 P.S. I've included an average brewing instruction chart below to help you brew your teas.
AVERAGE BREWING INSTRUCTIONS:
These are common instructions for brewing teas, however if the company suggests other brewing I will include it in the review section.
Time and Temperature Guide:
Tea      Temperature Minutes
Black      95°C / 205°F 3 – 5
Oolong/White 85°C / 185°F 3 – 4
Green/Yellow 80°C / 176°F 2 – 3
Herbal/Tisanes.     100°C / 212°F 5 – 15
** As always stated by My Tea Vault, we think you should enjoy tea the way you like it, I like mine very strong with no sweetener, these are just guidelines and I suggest you use the guideline then adjust for your own tastes.
Like us? Love us? Want a certain tea reviewed?
SEND US YOUR COMMENTS