Tea Review – Earl's Garden – Traveling Tea Company
Tea Selection: EARL'S GARDEN – CUSTOM BLEND
Company Name: TRAVELING TEA
Location: St. Louis, Missouri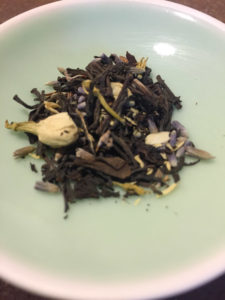 What Traveling Tea Shop says about themselves (taken from an online source):
Making the world safer for tea addicts, selling & serving high quality
organic, Direct Trade, and fair trade teas.
80+ varieties and flavors of teas (90% of our selection is organic), and a dozen of our own custom blends.
You can purchase as little as 1 cup (Travel Size) or an ounce (8-20 cups worth, depending upon the tea), or larger quantities (for daily tea drinkers)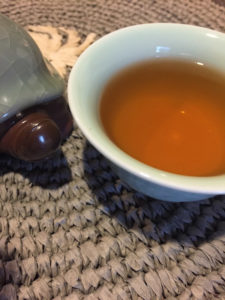 Read more about Traveling Tea Shop on their website: TRAVELING TEA SHOP
What Traveling Tea Shop says about this tea:
Our own custom lavender & jasmine Earl Grey blend, using local lavender from Winding Brook Estates in Eureka. Delicately floral.
INGREDIENTS:
Custom lavender & jasmine Earl Grey blend
COST:
2 ounces for $8.00
**Price will change by amount ordered**
MY REVIEW BEGINS HERE
Here are my thoughts on this tea:
That Earl Grey brings a perfume scent with a mellow backing and that familiar Earl Grey flavor. No aftertaste and slight bitter flavor. The brew is a light brew liquor.
What I liked:
It's an Earl Grey, need I say more? I like the depth of this tea and how dark of a brew it is a great morning tea or a wake me up mid afternoon tea.
What I did not like:
Not a thing.
Until next sip, pinkies up and face the wind! You've got this!
P.S. I've included an average brewing instructions chart below to help you brew your teas.
AVERAGE BREWING INSTRUCTIONS:
These are common instructions for brewing teas, however if the company suggests other brewing I will include it in the review section.
Time and Temperature Guide:
Tea      Temperature Minutes
Black      95°C / 205°F 3 – 5
Oolong/White 85°C / 185°F 3 – 4
Green/Yellow 80°C / 176°F 2 – 3
Herbal/Tisanes.     100°C / 212°F 5 – 15
** As always stated by My Tea Vault, we think you should enjoy tea the way you like it, I like mine very strong with no sweetener, these are just guidelines and I suggest you use the guideline then adjust for your own tastes.
Like us? Love us? Want a certain tea reviewed?
SEND US YOUR COMMENTS!