Tea Review – Fresh Morning Blend – Lyons Tea
Tea Selection: Fresh Morning Blend
Company Name: Lyons Tea
Location: Retail: Republic of Ireland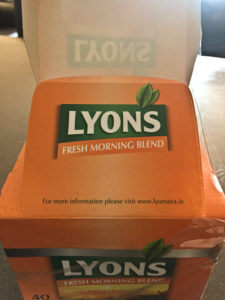 What Lyons Tea says about themselves (taken from online source):
In 1902 the Lyons family started their little tea business at High Street in Dublin, near Christchurch Cathedral. In 1932, Lyons moved to Marlborough Street, behind the Gresham hotel. 1963 saw Lyons move up in the world, to a state-of-the-art factory in Goldenbridge, Dublin 8.
The very first on-pack promotion by Lyons Tea was in 1963. When people bought a pack of Lyons Tea, they could hope to find a voucher for between 10 shillings and £10 inside. Iconic campaigns, such as the Minstrels and the very popular car giveaway would become a vital part of the Lyons Tea brand over the next 25 years. In the late 1970s, Lyons reinvented the wheel by going round. The change to round tea bags was so successful that Lyons managed to capture over 65% of the Irish tea market. The famous "Lyons Tea jingle" played an important role in the Lyons success story, and is still one of the first things people remember today.
Lyons Tea became a part of the Unilever family in 1996. Another milestone was the development of the tea-caddy style pack. People loved it for its sleek good looks and practicality. The move from round to pyramid bags in 2004 was another major leap forward for the brand. 2004 also saw the creation of our famous feathered friends, the Lyons Tea birds: Maggie, Niamh, Pete and Tom.
**There is so much more on their website to please make sure you visit and check out the history of the Lyons Tea Company.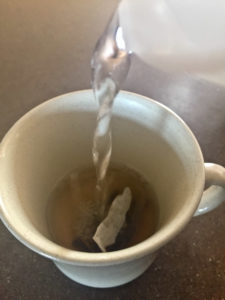 Read more about Lyons Tea on their website: HERE. http://www.lyonstea.ie/index.html
INGREDIENTS:
Black Tea in pyramid bags
COSTS: Not available on website yet
Price may vary according to the amount purchased.
MY REVIEW BEGINS
Here is what I think
This tea will wake you up, compared to most northern states teas this will make your eyes open wide. I've noticed this with teas from Ireland before, they are prepared strong and dark.
What I liked
It reminds me of the tea I used to drink with my grandmother, we added a few sugar cubes to the mix and we had a find cup of tea to share our lives over. This tea is a nice black tea with a lot of punch to it. I added some honey but feel sugar would be a better match.
I also think that by adding sugar to a drink takes care of the sugar cravings and will help you eliminate that candy you may have wanted to eat.
What I did not like
Nothing, this tea brings to the table exactly what it says it is a Morning Breakfast Blend and it's bold and strong, time to WAKE UP!
Until next sip pinkies up and face the wind! You got this!
P.S. I've included an average brewing instruction chart below to help you brew your teas.
AVERAGE BREWING INSTRUCTIONS:
These are common instructions for brewing teas, however if the company suggests other brewing I will include it in the review section.
Time and Temperature Guide:
Tea      Temperature Minutes
Black      95°C / 205°F 3 – 5
Oolong/White 85°C / 185°F 3 – 4
Green/Yellow 80°C / 176°F 2 – 3
Herbal/Tisanes.         100°C / 212°F 5 – 15
** As always stated by My Tea Vault, we think you should enjoy tea the way you like it, I like mine very strong with no sweetener, these are just guidelines and I suggest you use the guideline then adjust for your own tastes.
Like us? Love us? Want a certain tea reviewed?
SEND US YOUR COMMENTS!