Tea Review – Galil – Anise Tea
Company Name: GALIL
TEA SELECTION: ANISE TEA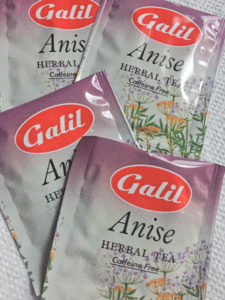 Interesting Highlights:
I'd been looking to add an Israeli tea to my reviews and was excited while visiting New Jersey I found this Anise Tea by Galil, I love anise, I used to often have a few anise hard candies in my purse just to enjoy during the day.
Ingredients:
Anise
The Scent or Aroma:
As soon as you open the box that anise smell will be present.
Review:
I love the smell of anise (or licorice) and this tea allows you to enjoy that scent from open to brew, However that is where it ends. I was disappointed that this tea is very bland and I used two tea bags. It's also more of a dust then a substantial piece of anise. I was disappointed and if I get a chance to get more Galil tea I'll try another one to hopefully bring people another amazing tea product.  Even with two tea bags this tea left me flat with a nice fragrance but very little flavor, a very bland tea.
Cost: $17.56/ 6 boxes of 20 tea bags each
Price may vary according to the amount purchased.
********************************
Company highlights, notes and more:
Galil is a family owned and run company since 1985, specializing in the import and distribution of fine gourmet and specialty foods from around the world.
Each item is hand picked to ensure the complete satisfaction of our customers.
We have been in the food business for more than 30 years, and we understand the importance of delivering a superior product. We work hard to provide quality, great-tasting food, while our dedicated staff constantly strives to ensure that our stringent quality standards are maintained and our highly specialized facility is committed to preserving the quality of our products.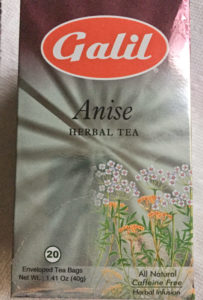 Read more or visit their website: CLICK HERE.
******************************************************************
I hope you all are enjoying and sharing our tea reviews. I love our tea loving community and as tea continues to grow and flourish so will our reviews. I plan on keeping us all informed on what is going on, what is new, what is bad and simply what is.
Please take a moment to sign up for our newsletter and follow us on Facebook, Twitter and Instagram. So much more to share and the newsletter gives us discounts, giveaways and tea company's inspirations. Don't be left out of our community.
I've included an average brewing instruction chart below to help you brew your teas.
Like us? Love us? Want a certain tea reviewed?
SEND US YOUR COMMENTS!
(So serious, write to me and tell me what you are thinking, I honestly want to hear from everyone!)
Don't forget to follow me and make sure you say Hello!
******************************************************************
AVERAGE BREWING INSTRUCTIONS:
These are common instructions for brewing teas, however if the company suggests other brewing I will include it in the review section.
Time and Temperature Guide:
Tea      Temperature Minutes
Black      95°C / 205°F 3 – 5
Oolong/White 85°C / 185°F 3 – 4
Green/Yellow 80°C / 176°F 2 – 3
Herbal/Tisanes.         100°C / 212°F 5 – 15
** As always stated by My Tea Vault, we think you should enjoy tea the way you like it, I like mine very strong with no sweetener, these are just guidelines and I suggest you use the guideline then adjust for your own tastes.