Tea Review – Garden in Bloom Chai – The Chai Palace
Tea Selection: GARDEN IN BLOOM CHAI
Company Name: The Chai Palace
Location: Retail: Mississauga, Canada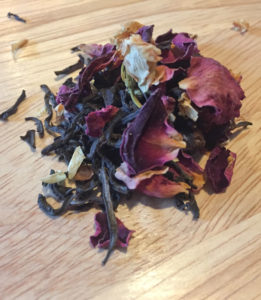 What The Chai Palace says about themselves (taken from online source):
I am a tea enthusiast and as long as I can remember, tea has been a part of my life. Growing up, tea was an important part of everyday life of my family. The morning would always start with a cup of strong breakfast tea, a fortifying drink to set you up for the day. Every night, after dinner, we had a cup of jasmine green tea, as much for its superb taste as for its health related benefits. I have enjoyed tea at festivals, weddings, tea parties and during my travels as well.
Tea has the special property of being a health drink which is also delicious and brings people together. A few years back, I started sampling different blends of store bought flavoured teas and chais, but I always found the taste artificial and in some cases, downright unpleasant. I believe in keeping everything simple and natural and I also wanted to have good tea and chai. Looking back, I remembered the amazing varieties of teas and chais that I used to love in my youth, which were based on family recipes handed down to my mother from an earlier generation, and I knew that it was possible to have great tasting tea without compromising the health benefits of this drink. Therefore, I started blending my own teas and chais at home, using good quality teas, spices and herbs and of course, the family recipes. The results were awesome! My family and friends loved these blends but the best part was that I was using natural ingredients, fully aware of their positive effect on overall goodness and wellbeing. My success with these simple yet delicious blends gave rise to the idea of The Chai Palace.
Some of the tea blends come straight out of my family recipe book, perfected over generations, and full of the old world wisdom of great grandmothers and great aunts! The other recipes I developed myself, after many tries and experiments, based on teas and chais I have tried in my travels to different parts of the world.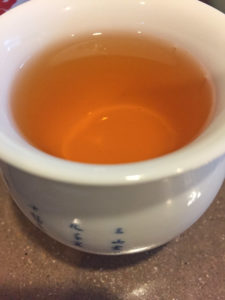 Read more about Chai Palace on their website: CHAI PALACE.
What The Chai Palace says about this tea:
A chai to lift your spirits and transport you to a garden in full bloom! A fragrant and delicious chai which truly embodies happiness in a cup. Rose petals and jasmine flowers create a rich and inviting floral aroma while cinnamon and cloves add the warmth of spices to this blend. A true delight for the senses and full of health benefits!
Wonderful as an afternoon tea, you can drink this chai on its own or try it with milk and your preferred sweetener..
INGREDIENTS:
Loose Leaf Black Tea, Rose Buds and Petals, Jasmine Flowers, Cinnamon and Cloves
COSTS: $8.00 / 50 grams
Price may vary according to the amount purchased.
MY REVIEW BEGINS
Here is what I think
This is a fun chai to smell and to experiment with (see Sweet Blackberry Leaf). This tea has a cinnamon floral scent with a light amber liquor and a mellow tea which makes it an enjoyable lunch or dinner tea, cuddle up with a book and enjoy a cup of Garden in Bloom Chai.
What I liked
I love the clover and cinnamon taste mixed in with the floral. It really makes a divine combination.
What I did not like
Not a thing, this is a really get mixture of spice and floral.
Until next sip pinkies up and face the wind! You got this!
P.S. I've included an average brewing instruction chart below to help you brew your teas.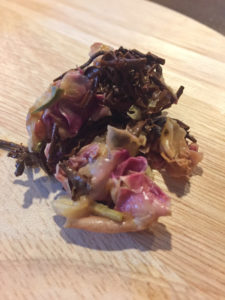 AVERAGE BREWING INSTRUCTIONS:
These are common instructions for brewing teas, however if the company suggests other brewing I will include it in the review section.
Time and Temperature Guide:
Tea      Temperature Minutes
Black      95°C / 205°F 3 – 5
Oolong/White 85°C / 185°F 3 – 4
Green/Yellow 80°C / 176°F 2 – 3
Herbal/Tisanes.     100°C / 212°F 5 – 15
** As always stated by My Tea Vault, we think you should enjoy tea the way you like it, I like mine very strong with no sweetener, these are just guidelines and I suggest you use the guideline then adjust for your own tastes.
Like us? Love us? Want a certain tea reviewed?
SEND US YOUR COMMENTS!