Tea Review – Healthy Edge – Tealyra
Tea Selection: Healthy Edge
Company Name: Tealyra
Location: Retail: Champlain, New York
What Tealyra says about themselves (taken from online source):
We dreamt of a place that tea lovers, connoisseurs, and amateurs alike could come together to explore the world of tea. Inspired by pure passion and a respect for authenticity, Tealyra was born. We strive to be a company that will provide you with what you're looking for, help you learn something new, try something new, and discover something new about the second most consumed beverage in the world.
In 2010, Tealyra (Thelux LLC) was birthed out of admiration and absolute love for all things tea. We started by creating unique blends using the finest quality teas and ingredients, after trial and error, tasting and testing our blends were absolutely delectable! We believe tea brings people together, it can bring a moment of calm to your day when you need it, the health properties tea is known for, or a boost of energy during your midday slump… we are firm believers that herbs as medicine are not only powerful, but they also work!
We take pride in our high standard of quality; offering authentic true teas direct from origin, organic exclusives, a broad variety, and our own unique blends- created by innovation and the promise to deliver excellence in serving you our finest products.
We are a team of tea lovers! Our hands are matcha-stained; we drink tea, touch tea, talk tea and study tea- all day. From our founders, to those of us who pack your online orders and greet you at our store front location, we sincerely share your passion for tea and stand behind our product to offer you the best there is.
We thank you for choosing Tealyra, we are honored to serve you, and share our passion for tea and excellence with you!.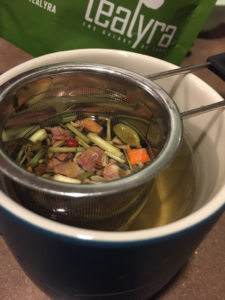 Read more about Tealyra on their website: HERE.
What Tealyra says about this tea:
Looking to up your game? We have specifically blended this fantastic tea with your best health in mind! With our fine quality pu'erh tea as the base, we've added some of the healthiest herbs to help you not only loose weight, but also to have an impeccable immune system, clear skin, and feel your best. Healthy Edge has a sweet and spicy, apple-cinnamon, raisin flavor that isn't overwhelming, but gentle and mild. Enjoy a cup and live on the edge!
Chinese traditional medicine only praises the consumption of pu'erh, where it is commonly known to be an incredible health tonic that is a pleasure to enjoy. Studies have shown that pu'erh is the only tea that raises good cholesterol and lowers bad cholesterol. It has shown to reduce blood pressure, promote healthy blood circulation, and generally make you feel better. It is amazing for cutting fat in the body, and can help you lose weight when combined with a healthy lifestyle and better choices. Try Healthy Edge after a heavy meal, it will help cut the heaviness, or sluggishness you may be feeling.
Peppermint, fennel, licorice, and cinnamon are wonderful anti-inflammatory herbs that aid in healthy digestion, releasing join pain, soothing stomach upset, and nausea. These overall balancing herbs will aid you in obtaining your ultimate health as you regularly drink our delicious, satisfying, and fruity Healthy Edge blend!
INGREDIENTS:
Pu'erh tea
oolong tea
red rooibos
green rooibos
green honeybush
currants
strawberries
pineapple cubes
freeze-dried apple pieces
pomegranate arils
freeze-dried yoghurt granules
eucalyptus leaves
rosehips
hibiscus flowers
chamomile
fresh peppermint leaves
fennel
aniseed
ginger root
licorice root
astragalus
ginseng
tulsi
cinnamon
cardamom
rose petals
safflower
marigold flowers
COSTS: $6.50 / 50 gram
Price may vary according to the amount purchased.
MY REVIEW BEGINS
Here is what I think
Do you see what is missing from this list of ingredients? Not a lot but that eluding "natural flavors" this tea is full of amazing healing herbs and just a jumbo fun combination of ingredients.
What I liked
This tea is packed full of healthy herbs and spices, the lemongrass gives it a nice foundation to it's fruity somewhat chocolaty scent. This is a mild tea that is slightly sweet but not overpowering at all. It's not bitter and there is not aftertaste, just a smooth healthy drink full of anti toxic ingredients. Along with the Pu'erh tea that really gives this tea the push to healthy as the title suggests. There was a lot of thought going into creating this tea and adding 28+ ingredients together is not an easy task and then to have that tea come out tasting amazing, well done Tealyra, well done!
What I did not like
There is nothing not to like, heat water, pour, sip and ENJOY!
Until next sip pinkies up and face the wind! You got this!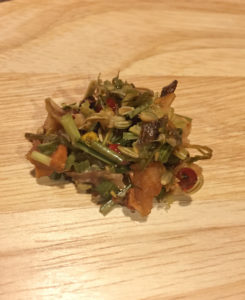 P.S. I've included an average brewing instruction chart below to help you brew your teas.
AVERAGE BREWING INSTRUCTIONS:
These are common instructions for brewing teas, however if the company suggests other brewing I will include it in the review section.
Time and Temperature Guide:
Tea      Temperature Minutes
Black      95°C / 205°F 3 – 5
Oolong/White 85°C / 185°F 3 – 4
Green/Yellow 80°C / 176°F 2 – 3
Herbal/Tisanes.     100°C / 212°F 5 – 15
** As always stated by My Tea Vault, we think you should enjoy tea the way you like it, I like mine very strong with no sweetener, these are just guidelines and I suggest you use the guideline then adjust for your own tastes.
Like us? Love us? Want a certain tea reviewed?
SEND US YOUR COMMENTS