Tea Review – Jin Jun Me – Gramercy Tea
Tea Selection: Jin Jun Me
Name: Gramercy Tea
Location: NY NY
Owner: Aaron Barnes
Tea Company Comments taken from their webpage:
My name is Aaron Barnes and I started Gramercy Tea with the mission to bring high quality tea to America. We are only online at this moment and we only serve loose leaf tea for the time being but we are hoping to expand that one-day.  Thank you for coming to my page, I hope you come back often!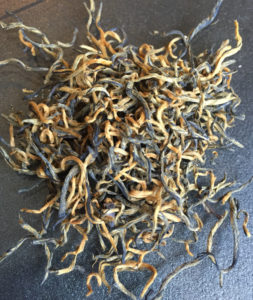 Personally:
Gramercy Tea is one of those companies that strive for perfection in their teas and in their service. Their product line may seem simple but indeed it is the true essence of what tea is about, serving those that want to taste the purest form of tea to those that like to dress it up with a little bit of this and a little bit of that (herbal). Thank you Gramercy for allowing me to review your teas and tell the world about them.
Read more about Gramercy Tea on their website HERE
BREWING INSTRUCTIONS:
These are common instructions for brewing teas, however if the company suggests other brewing I will include it in the review section.
Time and Temperature Guide:
Tea      Temperature Minutes
Black      95°C / 205°F 3 – 5
Oolong/White 85°C / 185°F 3 – 4
Green/Yellow 80°C / 176°F 2 – 3
Herbal/Tisanes.         100°C / 212°F 5 – 15
** As always stated by My Tea Vault, we think you should enjoy tea the way you like it, I like mine very strong with no sweetener, these are just guidelines and I suggest you use the guideline then adjust for your own tastes.
INGREDIENTS:
 Black Tea from China
What the site has to say about their product:
Jin Jun Mei is a black tea from Wuyishan City, Fujian Province, China. It is made from two small shoots plucked in early spring from the plant's stem which are subsequently fully oxidised to giving a tea that has a sweet, fruity and flowery flavour with a long lasting sweet after-taste. The brew is bright reddish in colour.
COSTS: $8.00 / 2 ounces
Price may vary according to the amount purchased.
REVIEW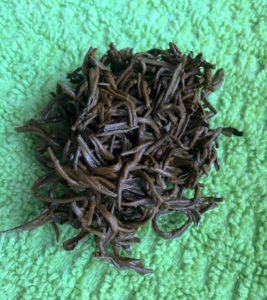 Brewed: Dark Amber brewed
Scent: Honestly? Ashes, Volcanic
Flavor: Slightly bitter with a mineral taste and a mushroom or bark note
Sentiments: I know that the review makes it sound a bit unappealing but it is anything but. Such a refreshing tea with a unique flavor and taste that makes you know you are tasting a tea grown and cultivated in a land that knows it's true tea, you are tasting the land, such an honor.
My Tea Vault score values of 1-10 (10 being the best): "9".
Till next sip…