Tea Review – Masala Chai – Adagio
Tea Selection: Masala Chai
Company Name: ADAGIO
Location: Elmwood Park, New Jersey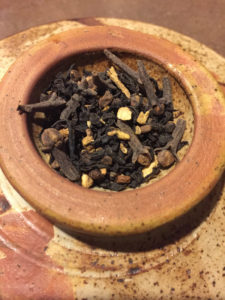 What Adagio says about themselves (taken from an online source):
Adagio Teas was founded in 1999 with the aim of providing consumers with unmatched quality and variety of teas. We have become the most popular destination for tea online, and among the highest rated companies on BizRate and Epinions. Adagio was also singled out by Consumer Union as having the "most trustworthy" consumer practices. Our products are now available in many gourmet and health food stores..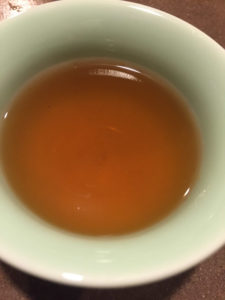 Read more about Adagio on their website: ADAGIO
What Adagio says about this tea:
Our Masala Chai tea blend combines premium Ceylon black tea with cinnamon, cardamom, cloves and ginger. In Indian culture, 'Masala' means 'a blend of spices', and 'chai' simply means 'tea.' So, Masala Chai is literally 'spiced tea'. Our interpretation tries to stay true to its definition thanks to a warm and inviting fragrance, zesty flavor (without being too hot or spicy) and invigorating, aromatic finish.
INGREDIENTS:
Premium Ceylon black tea with cinnamon, cardamom, cloves and ginger.
COST:
3 ounces for $8.00
**Price will change by amount ordered**
MY REVIEW BEGINS HERE
Here are my thoughts on this tea:
This is a stronger tea with a bite to it. Spicy Chai is my first thought. The ginger in this tea really adds a bit of spice to it and really warms it up. Once the tea settles you can taste a bit of the cinnamon following the spicier tea. The liquor to this tea is a darker brown.
What I liked:
This is a stronger tea and a wake up tea, which fits right into my schedule. I love that the tea is a good mix of all ingredients, such a nice blend.
What I did not like:
Not a thing! Love it.
Until next sip, pinkies up and face the wind! You've got this!
P.S. I've included an average brewing instructions chart below to help you brew your teas.
AVERAGE BREWING INSTRUCTIONS:
These are common instructions for brewing teas, however if the company suggests other brewing I will include it in the review section.
Time and Temperature Guide:
Tea      Temperature Minutes
Black      95°C / 205°F 3 – 5
Oolong/White 85°C / 185°F 3 – 4
Green/Yellow 80°C / 176°F 2 – 3
Herbal/Tisanes.     100°C / 212°F 5 – 15
** As always stated by My Tea Vault, we think you should enjoy tea the way you like it, I like mine very strong with no sweetener, these are just guidelines and I suggest you use the guideline then adjust for your own tastes.
Like us? Love us? Want a certain tea reviewed?
SEND US YOUR COMMENTS!