Tea Review of MD Teas: Masala Chai, Topsy, Liberty Spirit and The Devil is a Woman
Company Name: MD TEA
TEA SELECTION: MASALA CHAI EXPERIENCE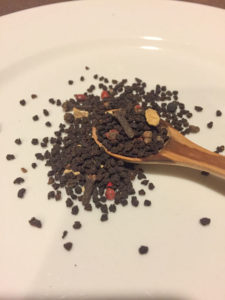 Interesting Highlights:
Love the way this tea looks and it does brew very fast with a dark liquor, you do not need a lot of tea for this to make an amazing cup full!
Ingredients:
Indian Black Tea
Ginger
Cardamom
Cinnamon
Red Peppercorns
The Scent or Aroma:
This tea will surprise you, not the normal Chai sent, it's there but is not the completeness of this tea.
Review:
This tea is amazing as it's a darker tea with a mellow mood, it's also a smooth tea! It's got a little bit of bitterness to it but when/if you add milk or honey to it that just goes into a smooth chai with a little bite to it. This tea has Ginger and that ginger stands out just a bit, on your tongue you feel it even after you have finished sipping. Ginger is an amazing ingredient in any tea but this crafted tea gives it just the right umph!
Cost. £7.40   / 100g loose leaf tea
Price may vary according to the amount purchased.
********************************
TEA SELECTION: TOPSY TEA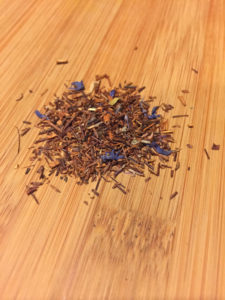 Interesting Highlights:
Sort of a play on an Earl Grey with the Bergamot and CornFlowers but the Rooibos really adds a new spice to it.
Ingredients:
South African Vanilla Rooibos
Bergamot
CornFlowers
The Scent or Aroma:
The familiar scent of Rooibos and a slight citrus scent
Review:
Such a pretty tea and the beauty of the rooibos bush is not compared with much else in our tea world. The brew is a lovely copper color. A lovely smooth and a bit sweet tasting tea. The vanilla really stands out with a slight citrus back to this tea. I love the way it tastes, fresh and awaking with no caffeine.
Cost: £7.50 / 100g loose leaf tea
Price may vary according to the amount purchased.
********************************
TEA SELECTION: THE DEVIL IS A WOMAN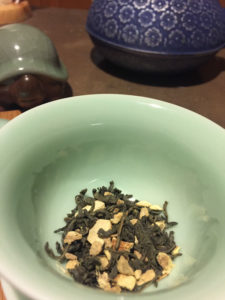 Interesting Highlights:
What amazed me most about this tea is the lack of vegetal scent, the scent actually is very light and sweet.
Ingredients:
Chinese Yunnan Green Tea
Lemon Peel
Ginger
Natural Flavors
The Scent or Aroma:
Light scent with a slightly citrus aroma
Review:
Ha, this tea is fun, it's got a bite to it. That bite is the ginger and it really is evident when you drink it. Funny thing is I never used to be a ginger fan but lately I'm finding I love the little spicy and hot surprise it adds to drinks and foods. If you are looking for a fun green tea this would be it, missing is the vegetal flavor and added is an amazing tea with a slight citrus flavor and a ginger boost.
Cost: £7.50 / 100g loose leaf tea
Price may vary according to the amount purchased.
********************************
TEA SELECTION: LIBERTY SPIRIT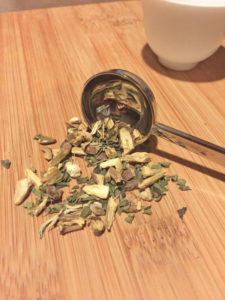 Interesting Highlights:
This tea was fun and when I looked at the ingredients I knew it would be with many of my favorites included: Mint, Licorice and Ginger.   There are also some amazing liver and stomach soothers of Milk Thistle and Dandelion.
Ingredients:
Mint
Liquorice
Burdock
Milk Thistle
Dandelion
Ginger
The Scent or Aroma:
A sweet and minty aroma.
Review:
This tea was fun and I knew it would be, such a delightful mix of ingredients and all of which are so healthy for your gut and liver.   This is a mellow tea with an amazing aroma and flavor, the mint is prominent with the other ingredients folding into it to make it just that much more interesting!
Cost. £8.50 / 100g loose leaf tea
Price may vary according to the amount purchased.
~~~~~~~~~~~~~~~~~~~~~~~~~~~~~~~~~~~~~~~~~~~~~~~~~
Company highlights, notes and more:
Launched in 2009 as an antidote to the bland blends and insipid infusions we were finding everywhere around us, MDTea set out to reinvigorate the tradition of tea, initially crafting a bespoke range of 15 loose leaf teas and infusions to bring a bit of excitement and glamour back to what had become little more than a daily dose of limp, caffeinated and colored water for many. Tea's longstanding reign, was starting to lose its footing against its more trend focused and fashionable cousin, coffee. We thought that it was time to change things, and bring tea back to its rightful spot at the top, not in place of coffee, but standing shoulder to shoulder, as an equal option for the cool, creative, adventurous and engaged market that now existed out there, demanding a little more craft in their cups. In a world where artisanal is now a watchword, and the rituals and rewards of properly brewed beverages are respected and revered, it Was time the tea world work up, and so, we did.
Read more and visit the website: CLICK HERE.
******************************************************************
I hope you all are enjoying and sharing our tea reviews. I love our tea loving community and as tea continues to grow and flourish so will our reviews. I plan on keeping us all informed on what is going on, what is new, what is bad and simply what is.
Please take a moment to sign up for our newsletter and follow us on Facebook, Twitter and Instagram. So much more to share and the newsletter gives us discounts, giveaways and tea company's inspirations. Don't be left out of our community.
Below I have included an instructional brewing chart to help you brew your teas.
Like us? Love us? Want a certain tea reviewed?
SEND US YOUR COMMENTS!
(So serious, write to me and tell me what you are thinking, I honestly want to hear from everyone!)
Don't forget to follow me and make sure you say Hello!
******************************************************************
AVERAGE BREWING INSTRUCTIONS:
These are common instructions for brewing teas, however if the company suggests other brewing I will include it in the review section.
Time and Temperature Guide:
Tea      Temperature Minutes
Black      95°C / 205°F 3 – 5
Oolong/White 85°C / 185°F 3 – 4
Green/Yellow 80°C / 176°F 2 – 3
Herbal/Tisanes.         100°C / 212°F 5 – 15
** As always stated by My Tea Vault, we think you should enjoy tea the way you like it, I like mine very strong with no sweetener, these are just guidelines and I suggest you use the guideline then adjust for your own tastes.