Tea Review – Owl's Brew – Tea blends to mix with alcohol
Company Name: OWLS BREW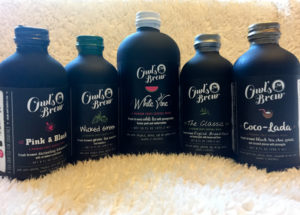 Probably the first tea "brew" to mix with alcohol that really stands out. You can actually taste the teas and the alcohol is just a pleasant 2nd to the tea blend.
You will get this very cool card that explains the concept in 3 easy lessons. It's simple yet there is nothing simple about it, it's full of flavor, fun and enjoyment.
I mentioned in one of the reviews trying these with just water, that's going to be a no go, the alcohol really adds a balance to these brews, the water does it no justice and ends up being more of a super sweet beverage. Definitely these were made for alcohol pairing and with that they do an incredible job, actually I was amazed at how much more the tea flavors came out in the alcohol then with straight water.
Once opened store in refrigerator and use within two weeks, honestly the bottles are a perfect size for a few drinks and if you are sharing with company you won't have to worry about that 2 weeks going by and not using your brews.
TEA SELECTION: WICKED GREEN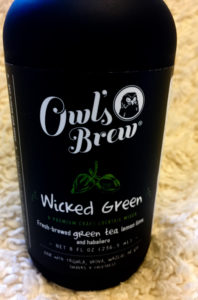 Ingredients:
Organic brewed green tea
organic agave
lemon juice
lime juice
citric acid
ascorbic acid
habanera juice from fresh habaneras.
Review:
Spicy yet you still get the taste of the vegetal of the green tea, you may think that sounds a bit horrid but honestly it really was a unique flavor sensation. I mixed this with vodka and felt it was a good pairing.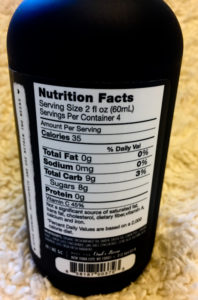 Cost: $7.99 / 8 oz.
Price may vary according to the amount purchased.
********************************
TEA SELECTION: PINK AND BLACK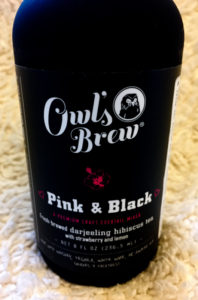 Ingredients:
Darjeeling tea
Hibiscus
lemon peel
strawberry juice
lemon juice
agave
citric acid
ascorbic acid
Review:
Now what I expected but really enjoyed the fruitiness of this brew, it's a pleasant surprise with the alcohol but the Pink and Black really take the front stage and shine through with a fruity clean flavor.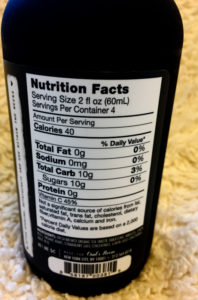 Cost: $7.99 / 8 oz
Price may vary according to the amount purchased.
********************************
TEA SELECTION: CLASSIC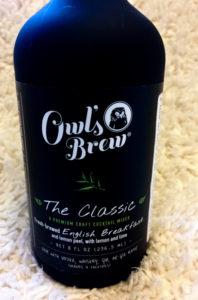 Ingredients:
English breakfast tea
lemon peel
lemon juice
lime juice
citric acid
ascorbic acid
agave.
Review:
This is your classic black tea with a twist. I love the fact that the traditional tea flavor really stands out. You have to try these and if you are not sure which one then pick this one to start off with.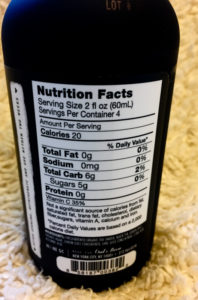 Cost: $7.99 / 8 oz.
Price may vary according to the amount purchased.
********************************
TEA SELECTION: COCO LADA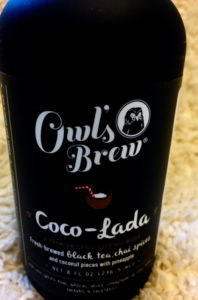 Ingredients:
Black Tea
Coconut
Chai Spices
Agave
Pineapple Juice Concentrate
Coconut Water
Citric Acid
Review:
I would say this is one of the most interesting brews, mixed with my Vodka it really has such a lovely cocoa flavor with a little bit of a spicy note to it, spicy as in spicy not as in alcohol. The website tells us this artisanal mix is handcrafted in small batches.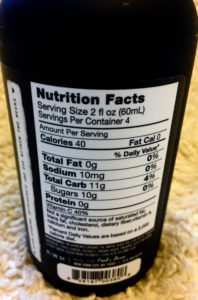 Cost: $7.99 / 8 oz.
Price may vary according to the amount purchased.
********************************
TEA SELECTION: WHITE AND VINE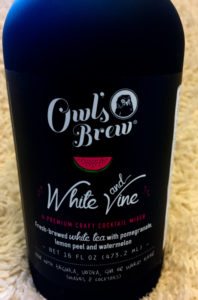 Ingredients:
white tea
pomegranate
lemon peel
agave
watermelon juice
lime juice
lemon juice
raspberry juice
malic acid
Review:
Interesting mixture of a wine and a vodka but I wanted to give it a try. It's really a very light and mellow taste that flows easily with a very soft elegant wine taste. I wanted to try this with just water because it's wine taste really stood out. See beginning statement about adding these to water.
Cost: $7.99 / 8 oz.
Price may vary according to the amount purchased.
********************************
~~~~~~~~~~~~~~~~~~~~~~~~~~~~~~~~~~~~~~~~~~~~~~~~~~~~~~~~~~~~~
Company highlights, notes and more:
Owl's Brew was founded by tea-drinking boozers (always in moderation).
We were looking for a sipper that was lighter, fresher, funner.We were tired of our go-to vodka cran. While an easy bar-call, there was too much sugar, and a serious lack of hydration. We tried the old fashioned cocktails: Manhattan, Negroni, Tom Collins.  While we felt very "Mad Men" ordering, one clunky cocktail was plenty and we're round two kind of gals…
It didn't take us long to think of a product that offered endless flavors, that was light and fresh – our favorite non-boozy sipper –  tea!
Our first brew was simple – we switched out cranberry juice for cranberry tisane…our second step was to sub rooibos for sweet vermouth… yum.  Steps 3, 4, 5, 6 & 7 were not quite as simple, but we won't bore you with those details. If you are reading this, you are looking at the final product.
Owl's Brew is a tea crafted for cocktails and our favorite way to Drink Wise.
Read more and visit the website: CLICK HERE. https://theowlsbrew.com
******************************************************************
I hope you all are enjoying and sharing our tea reviews. I love our tea loving community and as tea continues to grow and flourish so will our reviews. I plan on keeping us all informed on what is going on, what is new, what is bad and simply what is.
Please take a moment to sign up for our newsletter and follow us on Facebook, Twitter and Instagram. So much more to share and the newsletter gives us discounts, giveaways and tea company's inspirations. Don't be left out of our community.
Below I have included an instructional brewing chart to help you brew your teas.
Like us? Love us? Want a certain tea reviewed?
SEND US YOUR COMMENTS!
(So serious, write to me and tell me what you are thinking, I honestly want to hear from everyone!)
Don't forget to follow me and make sure you say Hello!
******************************************************************
AVERAGE BREWING INSTRUCTIONS:
These are common instructions for brewing teas, however if the company suggests other brewing I will include it in the review section.
Time and Temperature Guide:
Tea      Temperature Minutes
Black      95°C / 205°F 3 – 5
Oolong/White 85°C / 185°F 3 – 4
Green/Yellow 80°C / 176°F 2 – 3
Herbal/Tisanes.         100°C / 212°F 5 – 15
** As always stated by My Tea Vault, we think you should enjoy tea the way you like it, I like mine very strong with no sweetener, these are just guidelines and I suggest you use the guideline then adjust for your own tastes.
SaveSave