Tea Review – Phoenix Herb Company – Spiced Red Chai
Tea Selection: Spiced Red Chai
Name: Phoenix Herb Company.
Location: Retail: Kansas City, Mo.
Tea Company Comments taken from their webpage:
 Opening our doors in 2005, we boast a knowledgeable and diverse staff of herbal advocates with seventy five years of combined experience studying and using botanicals. Phoenix Herb Company has risen from the ashes of Kansas City's legendary House of Hezekiah in order to provide you with access to a tremendous variety of herbs, spices, teas and supplements.
Phoenix Herb Company serves our community by providing traditional herbs, supplements, essential oils, cooking spices, and tea. Following the tradition of folk healers before us, we compose and blend our own herbal tea blends, right here in the store. We carry hundreds of medicinal herbs and culinary spices, as well as white, green, oolong, and black teas. Many of our bulk products are domestically cultivated, or locally and ethically wildcrafted, and a great number are imported from around the world. Just a few of the countries represented on our shelves are South Africa, Hungary, Japan, France, Morocco, Bulgaria, Egypt, India, China, Australia and Peru.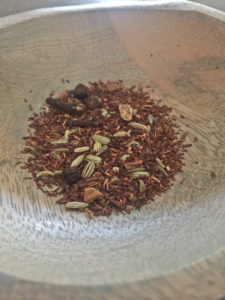 Personally: What a fun and personable store and staff. I had the pleasure of meeting them at the Midwest Tea Festival in Kansas City and of course the originality of their tea caught my eye. They also sell essential oils and herbal supplements so if you are in need of any and are close by check them out.
Read more about Phoenix Herb Company on their website: Phoenix Herb Company.
BREWING INSTRUCTIONS:
These are common instructions for brewing teas, however if the company suggests other brewing I will include it in the review section.
Time and Temperature Guide:
Tea      Temperature Minutes
Black      95°C / 205°F 3 – 5
Oolong/White 85°C / 185°F 3 – 4
Green/Yellow 80°C / 176°F 2 – 3
Herbal/Tisanes.         100°C / 212°F 5 – 15
** As always stated by My Tea Vault, we think you should enjoy tea the way you like it, I like mine very strong with no sweetener, these are just guidelines and I suggest you use the guideline then adjust for your own tastes.
INGREDIENTS:
Rooibos (red bush)
Cinnamon
Cardamom
Fennel
Cloves
Ginger
Peppercorns
Anise
COSTS: $1.25-$2.80 / oz
Price may vary according to the amount purchased.
REVIEW
From Phoenix Herb: Spiced Red Chai Rooibos is a wonderful alternative to the traditional chai tea. Rooibos teas are delicious and caffeine free. We combine traditional rooibos, or red bush, tea with our Indian Spice chai blend to create a complete chai tea blend. Enjoy it hot, with cream, or iced. Spicy and refreshing for those lazy hazy days.
Prior to brew: The chai was an obvious scent when you first open this package.
Brewed: It's amazing the change in a tea once it is brewed. This tea has a reddish brown liquor.
Scent: It's a lovely chai scent with its strength in the clove and cinnamon with undertones of the cardamom.
Flavor: This tea is slightly bitter yet mild, has a slight flavor of cooked pasta once brewed.
Sentiments: This tea is very interesting as it's called a chai yet a lot of the "chai" flavor we know was enchanted because of the use of a rooibos, fennel and cardamom that made this tea fun! There was a lot more flavor and I have to agree with Phoenix Herb, try this one with milk for some fun.
My Tea Vault score values of 1-10 (10 being the best): "7".
Till next sip