Tea Review – Pomegranate Black – Anna Tea Shop
Tea Selection: POMEGRANITE BLACK
Company Name: ANNA TEA SHOP
Location: Liberty, Missouri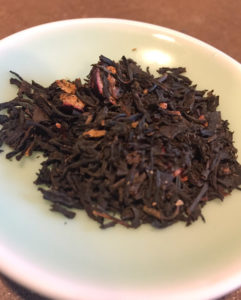 What Anna Tea Shop says about themselves (taken from an online source):
Anna Marie's started in 1994 by our family in Historic Downtown Liberty, Missouri.  Our family's love for tea has taken us down many roads.   Monthly Themed Tea Parties and Private Tea Parties are hosted in Al & Brenda's 1913 historical Liberty home. We simply love to drink good premium tea and really enjoy watching others relax & connect over their tea cups at our tea parties. Most of our hobbies include drinking tea, spending time with our family & tea friends, and caring for our community.
We continually search for the finest quality premium teas from around the world and seek continued tea education to provide the most up to date knowledge of the health benefits as well as the FUN of enjoying the tea drinking life style.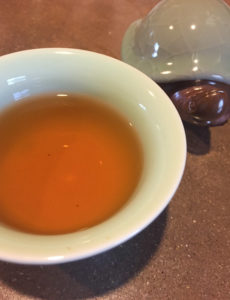 Read more about Anna Tea Shop on their website: ANNA TEA SHOP
What Anna Tea Shop says about this tea:
Not listed on site yet but if you like the review and want to try this tea yourself just give Anna Tea shop a shout and I am very sure they will hook you up.
INGREDIENTS:
Not listed on website yet
COST:
Not listed on website at the time of this review
MY REVIEW BEGINS HERE
Here are my thoughts on this tea:
This tea first smells like a juice and then more like a citrus flavored tea, with a very soft citrus flavor. It's such a mild tea with a fruit back. It's a medium amber brew.
What I liked:
While slightly bitter this tea has no aftertaste it's a fun fall brew with a nice backing of citrus and yet the marvels of a black tea.
What I did not like:
It's a nice tea but not spectacular, trusting a brand is something the best thing in buying a tea and Anna's is one you can try.
Until next sip, pinkies up and face the wind! You've got this!
P.S. I've included an average brewing instructions chart below to help you brew your teas.
AVERAGE BREWING INSTRUCTIONS:
These are common instructions for brewing teas, however if the company suggests other brewing I will include it in the review section.
Time and Temperature Guide:
Tea      Temperature Minutes
Black      95°C / 205°F 3 – 5
Oolong/White 85°C / 185°F 3 – 4
Green/Yellow 80°C / 176°F 2 – 3
Herbal/Tisanes.     100°C / 212°F 5 – 15
** As always stated by My Tea Vault, we think you should enjoy tea the way you like it, I like mine very strong with no sweetener, these are just guidelines and I suggest you use the guideline then adjust for your own tastes.
Like us? Love us? Want a certain tea reviewed?
SEND US YOUR COMMENTS!