Tea Review – Pomegranate Blossom – Armeniac Tea
Tea Selection: Pomegranate Blossom
Company Name: Armeniac Tea
Location: Yerevan, Armenia
Founded: 1996 – began production
Founded by: Armen Mehrabian
Tea Company Comments taken from their webpage:
HAM was established by Armen Mehrabian in 1996 as a small family business. HAM produces wild crafted herbal teas and spices in strict accordance with rehabilitated, mastered and patented ancient Armenian technologies and recipes.
Our company was established in the picturesque mountain village of Odzun in northern Armenia as a family enterprise with over three generations of experience in the herbal tea and spice industry. The driving philosophy of Armeniac is based on food ingredients and products that were prepared at courts and in monasteries throughout the ancient Kingdom of Armenia.
Оur environmentally friendly and nature crafted food products are made with natural ingredients growing wild at pristine high altitude meadows. We employ local people with an intimate knowledge of their immediate natural environment in our collection activities, contributing to the social sustainability of our operations.
One of the main objectives of Armeniac is to re-introduce authentic food ingredients and a tradition of food culture that is based on rediscovering ancient Armenian recipes. Professional chefs, gourmets and connoisseurs will enjoy the forgotten practices of dining and traditional food preparation that focus on a healthy diet.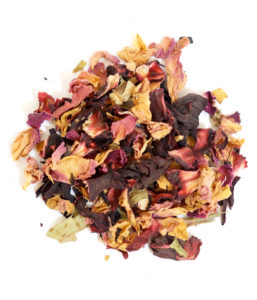 Personally:
I love to try not just different things but things that are different, creative and original. Armeniac Tea is all of the above and more, working to introduce the world to amazing products that come from their homeland and opening up our culture window just a bit more. There is a lot of information on their website as to the teas, company and Armenia, please take some time to not only order tea but learn more about the products and the country they come from.
Read more about Armenian Tea on their website: Armeniac Tea.
INGREDIENTS:
Wild Rose Petals
Pomegranate Blossoms
Hibiscus Flowers
COSTS: $11.99 – 0.88 ounce
Price varies according to the amount purchased.
REVIEW
Prior to brew: Very slight citrus scent. Interesting blend of citrus ingredients.
Brewed: Beautiful red shade once brewed, would lighten up any cup it is poured into.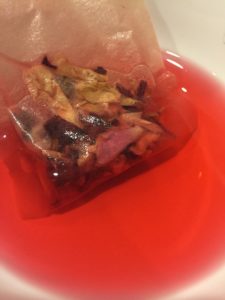 Scent: Citrus scent with a hint of perfume (for me any rose smell is like a perfume scent).
Flavor: From first brew this tea is a surprising slightly sour rose / pomegranate flavor. The bitterness will take you on surprise considering the somewhat calming scent and look of this tea. It's a stronger tea more for a dinner or lunch tea.
Sentiments: Again, you start off with a scent and the taste just makes you smile. This is why unbiased tea reviews are so important to the tea world. This reminds me of a fine dinner wine, except it's a tea. The color and taste will add a new diversity to your meals and your dinner conversation. Strong sour/bitter taste with a citrus full bodied taste.
My Tea Vault score values of 1-10 (10 being the best): "7".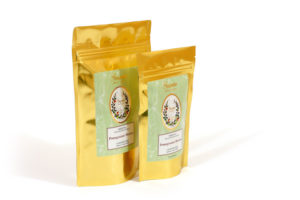 Till next Tea….
Pinkies up!