Tea Review – Pumpkin Spice – Tea Market
Tea Selection: Pumpkin Spice
Company Name: Tea Market
Location: Kansas City, Missouri
Tea Market in the Fall of 2002 because Kansas City needed tea. My goal in those first few years was to create a space for people to purchase really good tea and everything needed to steep and enjoy it properly. Over the last thirteen years the shop has grown and evolved into a wellness hub with a strong tea community.
The shop is filled to the brim with an extensive tea collection, new merchandise and great gift ideas to please even the most finicky tea lover. We also offer monthly classes to help you get the most out of your tea experience. Hurry in for the best selection of tea! Or contact us about the newest classes!
Read more about Tea Market Tea on their website: HERE www.theteamarket.com
Ingredients:
I had to write the makers for the ingredients and I will copy paste to you what was returned to me:
Pumpkin Spice Black tea with caramel bits, cloves, cinnamon and pumpkin shaped sugar sprinkles.
I explained I was doing a review and needed to know what was in the product as well as those round red products included in the tea.
Costs at the time of this writing: not listed on website
Review:
I received this tea as a free sample. When I got the sample, of course I was excited to try it. Inside the foil pouch were these little orange circles.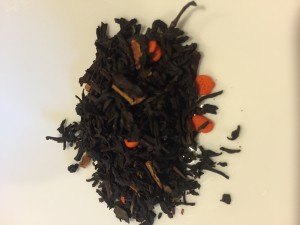 I tasted one and it's sweet and has some flavor, as sent to me by the owner those are pumpkin shaped sugar sprinkles.
The tea has a pre brew sweet aroma, It reminded me a bit of a sweet "foo foo" coffee scent. The color of this brewed tea is a medium amber color. Even with the sugar sprinkles the tea has a bit of a bitter taste to me and a burnt flavor as I took a few sips this did not change. I think this would make an excellent cross over tea for coffee drinkers. I'm not seeing this as an absolute fall tea as it's flavor and color make it work for an anytime tea. The scent makes you think it's going to be a sweet tea however as normal with brewing things change in the brew. That's the best part of brewing tea.
Tea just makes you smile, doesn't it!
Till Next Tea!
LB