Tea Review – RIshi Tea part 2
You can find part one HERE
Company Name: RISHI TEAS (part 2)
Rishi sent me this fun booklet that details all of there teas, it's in depth and detailed and I love it. The more information about what you are drinking the better. I will add inserts from the book into the descriptions of each tea but I suggest you take a good look at their website (link below) to get a real good idea of their teas and the quality of a company they are.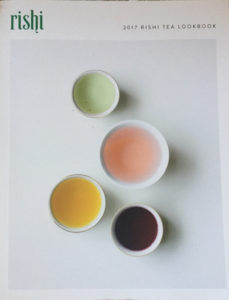 TEA SELECTION: PATAGONIA SUPER BERRY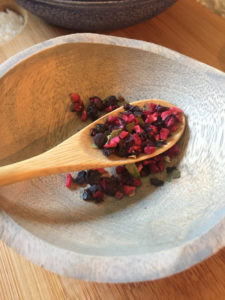 Interesting Highlights:
At first this tea was blue, but now it's more of a deep berry color, it's scent is somewhat of a grassy grape
Ingredients:
Organic blueberries
Organic Maqui berries
Organic raspberries
Organic red wine grape skins
Organic hawthorn leaves
Review:
This tea has a bit of a wine sensation on your tongue, it's mild flavor yet slightly sour taste is divine. This tea considered a super fruit blend is exactly that with all the berries listed blended into one incredible tea. Lovely wine color and flavor, very unique to the tea world or at least this tea reviewer.
"This juicy super fruit blend features wild-harvested maqui berry, a rare and amazing berry indigenous to the Chilean Patagonia".
It's so interesting to taste these teas with ingredients we do not see every day or even part of our everyday lives, it's opening us up to new experiences and allowing us to partake of a different culture and world.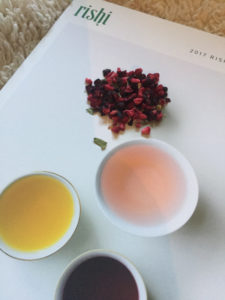 Cost: $26.00 / 25 servings / 100 grams
Price may vary according to the amount purchased.
********************************
TEA SELECTION: SENCHA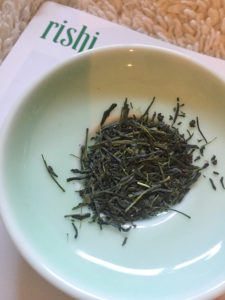 Interesting Highlights:
I love the leaves of a Sencha tea, they are so green almost neon and thin slivers that look so delicate.
Ingredients:
Organic Green Tea
Review:
Lovely refreshing flavor one of malt and hay. I love these single origin teas that really allow you to taste the culture and native lands the teas come from. This tea is refreshing and not vegetal that you might think, the tea is mild with a slight aftertaste. There is a lovely taste left in your mouth that makes you want more, it's malty and nutty.
"Kyushu's mineral rich volcanic soil, coupled with skillful organic soil management, creates a sweet and full-bodied green tea flavor. This chumushi sencha yields a slightly opaque, bold green infusion with deep umami and juicy mouthfeel".
It's a very refreshing tea, great hot and lovely for a sit down dinner or just some quiet time reading a book.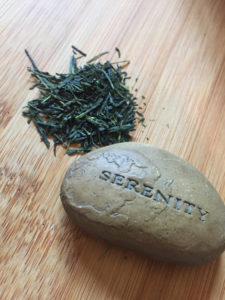 Cost: $24.00 / 12 servings / 60 grams
Price may vary according to the amount purchased.
********************************
TEA SELECTION: TURMERIC MANGO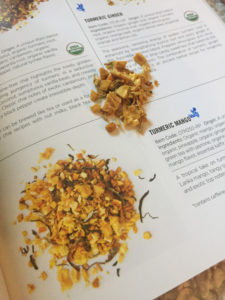 Interesting Highlights:
Lovely scent full of citrus and ginger, this tea also has a very nice coloring to it a light pale yellow. I also love that none of their teas contain "natural flavors" it's frustrating to me that something such as "natural flavors" can be literally anything!
Ingredients:
Organic mango
Organic turmeric root
Organic pineapple
Organic ginger root
Organic Green tea with Jasmine
Organic yuzu peel
Natural mango flavor
Essential kaffir lime oil
Review:
There is a touch of sweetness to this tea and the exotic fruits stand out on first sip and it slowly melts into a lovely tea with a subtle perfume flavor. This tea is not bold yet it stands strong with a citrus flavor that is mellow with no aftertaste or bitterness.
"Infusing ancient herbal traditions with epicurean creativity, our Herbal Teas express our mastery in sourcing exotic herbs, spices and fruits from all over the world. These natural ingredients are hand-blended in micro-batches to harmonize and develop a refined complexity".
What a lovely way to create a tea and to blend such ingredients in small batches to allow them to fuse together better and to give a better blended flavor.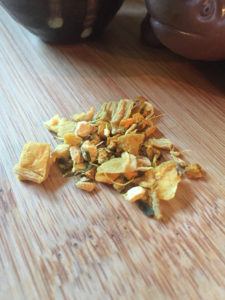 Cost: $22.00 / 20 servings / 100 grams
Price may vary according to the amount purchased.
********************************
Company highlights, notes and more:
Origins of Rishi Tea
Rishi Tea was founded in 1997 by Joshua Kaiser, who found a way to combine his passions for travel, world cultures, global culinary traditions, and herbology into a business. Following a series of post-college travels, he landed back in the US and was stumped by the lack of sources for quality teas. A growing interest among Americans in the origin driven nuances of coffee and wine led Joshua to believe that the time was ripe to introduce true teas to the American market.
Rishi started in a windowless 400sf space in Milwaukee's Third Ward, where loose leaf teas were formulated and hand blended in micro-batches for sale to cafés throughout the Midwest. Joshua enlisted his Rufus King High School friend Benjamin Harrison as a business partner to drive the expansion of sales into new markets. Meanwhile Joshua continued to travel abroad for nine months a year to source tea. The relationships that Joshua fostered during this time serve as the foundation of Rishi's direct trade and organic supply chain. Rishi's growth necessitated a move to a larger space in the Riverwest neighborhood, and soon after to an even larger facility at the old Louis Allis building in Bay View in 2003. What started there as a 10,000sf production facility grew into 32,000sf of operations and office spaces. Rishi's organic loose leaf teas became ever more popular as the brand expanded nationwide in the café market and in natural retailers like Whole Foods Market.
In 2013, Rishi launched into the world of tea bags and picked up global distribution that promised to exponentially affect sales. With bright prospects for growth, it was time to evolve once again and boost production capacity. In late 2013, land was purchased and construction began on a state-of-the-art tea facility in the Menomonee Valley district of Milwaukee. In September 2014, the doors opened to the new 48,000sf world headquarters of Rishi Tea. Every detail was considered and designed for optimal botanical storage conditions with aroma segregation and the strictest requirements for organic food safety. What's more, in mid-2016 the facility received SQF Level II Food Safety Certification, a globally-recognized standard. Such standards allow Rishi to offer a purity and quality unattainable by any other tea company in North America.
We are often asked about the meaning of Rishi. It is from Sanskrit and means "one who is a seer, sage, or seeker of truth." For us it means constantly striving to learn more about tea and strengthening our connection to tea and botanicals and the people who grow them. We strive to reveal the natural truth to our modern society, which has become so far removed from gardens and kitchens, and overly dependent on labs for synthetic and processed beverages. As Rishis, we want to share some natural and simple alternatives for people to live healthy and delicious lives. Discover new teas and join us on a wondrous botanical journey to leave No Leaf Unturned.
Read more and visit the website: CLICK HERE.
******************************************************************
I hope you all are enjoying and sharing our tea reviews. I love our tea loving community and as tea continues to grow and flourish so will our reviews. I plan on keeping us all informed on what is going on, what is new, what is bad and simply what is.
Please take a moment to sign up for our newsletter and follow us on Facebook, Twitter and Instagram. So much more to share and the newsletter gives us discounts, giveaways and tea company's inspirations. Don't be left out of our community.
Below I have included an instructional brewing chart to help you brew your teas.
Like us? Love us? Want a certain tea reviewed?
SEND US YOUR COMMENTS!
(So serious, write to me and tell me what you are thinking, I honestly want to hear from everyone!)
Don't forget to follow me and make sure you say Hello!
******************************************************************
AVERAGE BREWING INSTRUCTIONS:
These are common instructions for brewing teas, however if the company suggests other brewing I will include it in the review section.
Time and Temperature Guide:
Tea      Temperature Minutes
Black      95°C / 205°F 3 – 5
Oolong/White 85°C / 185°F 3 – 4
Green/Yellow 80°C / 176°F 2 – 3
Herbal/Tisanes.         100°C / 212°F 5 – 15
** As always stated by My Tea Vault, we think you should enjoy tea the way you like it, I like mine very strong with no sweetener, these are just guidelines and I suggest you use the guideline then adjust for your own tastes.