Tea Review – Single Origin – Blue Lady
Tea Selection: Blue Lady
Name: Single Origin Tea
Location: Retail: Dallas, Texas.
Tea Company Comments taken from their webpage:
Single Origin Teas was founded on the hope of bringing some of this subtlety and diversity to our fellow tea lovers: thus we provide high quality teas from specific locations at a reasonable price. While we tend to focus on loose leaf rather than tea bags, the bottom line comes down to the fact that tea should be enjoyed however you like. Our other main focus is on ethically sourced tea. We proudly support small tea growers in their sustainable practices. We directly source our tealeaves allowing for maximum transparency from grower to consumer.
Single Origin Teas is a family operated business that sources many of its teas from trips around the world. We only sell quality teas that represent the character of the region in which they are produced. You may notice that some regions are better represented than others, and we may be biased toward these teas and know more about them! But our list is constantly changing, as we too get introduced to new, exciting teas, and are always learning!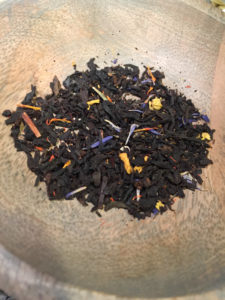 Personally:
Read more about Single Origin Teas on their website: Single Origin Teas.
BREWING INSTRUCTIONS:
These are common instructions for brewing teas, however if the company suggests other brewing I will include it in the review section.
Time and Temperature Guide:
Tea      Temperature Minutes
Black      95°C / 205°F 3 – 5
Oolong/White 85°C / 185°F 3 – 4
Green/Yellow 80°C / 176°F 2 – 3
Herbal/Tisanes.         100°C / 212°F 5 – 15
** As always stated by My Tea Vault, we think you should enjoy tea the way you like it, I like mine very strong with no sweetener, these are just guidelines and I suggest you use the guideline then adjust for your own tastes.
INGREDIENTS:
Black Tea
Passion Fruit Oil
Safflowers
Cornflowers
Sunflowers
Fruit Oils
COSTS: $7.50 / 2 ounces
Price may vary according to the amount purchased.
REVIEW
From Single Origin Teas: Blue Lady was a blend first created in Edinburgh Scotland. With rich tropical flavors, it is hard to believe that Scotland is due the credit of this beautiful tea, but perhaps in Scotland they needed this light exotic blend. Edinburgh is a rich cultural city, a pleasure to visit especially for the many teashops that carry this endemic blend. Blue Lady is a unique tea of blue cornflowers, passion fruit essence, and just a touch of sunflower petals mixed with a light black tea base. The tealeaves in this blend are predominately from Sri Lanka with smaller amounts of Indian tea. Blue Lady can handle sugar and milk, though we believe it best on its own.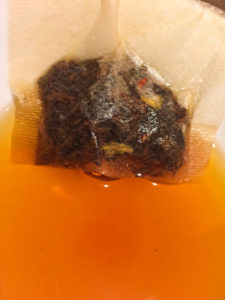 Prior to brew: Citrus scent.
Brewed: This tea has a pale yellow liquor.
Scent: The citrus scent is almost a whisper.
Flavor: Slightly bitter with a very light flavor, pleasant tea with very fine leaves.
Sentiments: This is a slightly bitter tea with a very light flavor and appearance. Beautiful tea for the dinner table or for an evening with a book and a fire.
My Tea Vault score values of 1-10 (10 being the best): "7".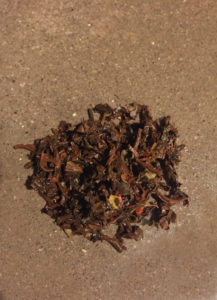 Till next sip…