Tea Review – Stash Tea – Breakfast in Paris
Tea Selection: Breakfast in Paris
Company Name: Stash
Location: Tigard, Oregon
Founded: 1972
Tea Company Comments taken from their webpage:
 The Stash Tea Company was founded in Portland in 1972 and operated out of an old Victorian-style house, supplying loose herbal teas and bulk herbs to natural food stores. In 1975, the company broadened its focus to include bagged teas and began to sell a full line of traditional, specialty blend, and herbal teas directly to fine restaurants and through a mail order catalog to consumers.
Stash Tea derives its name from an entertaining aspect of tea folklore. In earlier centuries, tea was a valuable commodity traditionally transported by clipper ship. The ship's captain was often presented with the finest teas for his personal use. This supply was his "stash", kept as his "private reserve". Today, the term is still used to denote anything put away carefully because of its preciousness.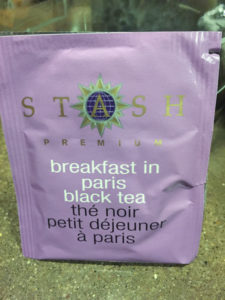 Personally:
Stash is a large tea company and a supplier of teas to many different venues. I like their teas because they are never just settled with one set of teas, they grow, they change and they always keep us excited about the next line of teas that come out. Today I received some teas and then a new little box, simply stated "new teas". Inside the box were 10 fun packets of teas and these were not just special to me, you can order them as well. Sample boxes are fun because you can try the tea and see if you like it or not, you don't have to buy a ton to figure it out, just a tea bag and then if you like it, open up and buy a larger amount. So have some fun and branch out, try a few samples and make sure you let me know now what you tried.
Read more about Stash Teas on their website: Stash Teas.
INGREDIENTS:  
Blended Black Tea
Lavender
Bergamot Extract
Vanilla Extract
Natural Hazelnut Flavor
COSTS: $2.50 / 10 Tea Bags
Price may vary according to the amount purchased.
REVIEW
Prior to brew: by first scent I would think this is an earl grey mix of some type.
Brewed: It's medium brown, and a rich color to it.
Scent: Slightly bitter scent still matching an Earl grey, bergamot scent.
Flavor: This tea reminds me of a perfume flavor, generally for me that means it's got a few floral ingredients in it and the lavender would fit that mold.
Sentiments: I like the name of this tea, Paris is amazing and breakfast there is incredible, I can see drinking this tea with an amazing array of breakfast choices.
My Tea Vault score values of 1-10 (10 being the best): " ".
Till next Tea….