Tea Review – Story of My Tea – Chocolate Chai and YICHA SHOU PUERH BRICK 2013
Company Name: STORY OF MY TEA
TEA SELECTION: THE FIRST OF THE SUBSCRIPTION BOXES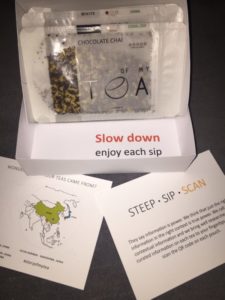 Interesting Highlights:
I know you all remember me talking about Story of My Tea and if you don't, just do a search on my page to catch up to this post.
Story of my Tea had an incredible KickStarter Promotion and I had been so privileged to try their teas prior to the rest of the world. They have an amazing product both in subscription as well as loose teas to purchase.
Their product is one of great teas and great information and with every tea purchase you receive information about your tea as well as a QR reader to scan and look up even more information. It's an incredible combination and I fell in love with the whole concept and then I fell in love with the teas.
I received my first box and a couple of the teas I have reviewed prior to this so I will just link you to the reviews.
The finished boxed product is really amazing please take a moment to read and look at the images below: Story of My Tea is a worthwhile purchase and educational as well.
REVIEW: CHOCOLATE CHAI
So this is why I love Story of My Tea so much: This tea was created as a chai originally when tea was brought India and the locals added their spices to it and it became Chai, in the 21st century a new twist was added (chocolate) to give our Chai tea an even more modern taste. (This was a very condensed version of what you will receive).
This tea has some spicy notes to it as well as a dark cocoa flavor (not chocolate) and I think this tea would make an incredible morning tea.
Cost: See website for information
Price may vary according to the amount purchased.
********************************
REVIEW: YICHA SHOU PUERH BRICK 2013
I was thrilled when I received my first subscription from My Tea Story and I was even more thrilled to find an added surprise of the above tea. I could not wait to try it. Now a brick of tea is interesting because you should use a special pick to break up the tea so I got mine out and broke off enough tea, being careful to keep it in as much in tact as I could. There was a lovely earthy scent that came just from examining the brick.
It brewed up in a reasonable amount of time (I was impatient) and it's a lovely deep color not dark but deep and the smell is very earthy, not green. I steeped it a bit longer and the hue is a deep rich brown color with nice highlights.
The taste is so smooth, almost like a fine wine no bitterness or aftertaste but just a beautiful smooth mellow earthy tea. It's really wonderful and I'm thrilled to have more to share with friends as well as later in my work week!
Cost: See website for information
Price may vary according to the amount purchased.
********************************
Previous reviews of My Tea Story can be found on the links below
REVIEW: ICCHA KARIBAN 
REVIEW: DARK ROSE
REVIEW: YA BAO SILVER BUD
Company highlights, notes and more:
We believe tea is art and that every tea has its own story- A story of its origin, history, heritage and people; A story that inspires open-minded exploration; A story that makes the tea a little more personal than its taste and smell.
We came up with the idea of Story of My Tea when, out of our curiosity for tea, our goal is to help you:
Experience the best of tea from around the world
Discover the beauty, cultures and diversity of tea
Keep track of your tea exploration
Read more and visit the website: CLICK HERE.
******************************************************************
I hope you all are enjoying and sharing our tea reviews. I love our tea loving community and as tea continues to grow and flourish so will our reviews. I plan on keeping us all informed on what is going on, what is new, what is bad and simply what is.
Please take a moment to sign up for our newsletter and follow us on Facebook, Twitter and Instagram. So much more to share and the newsletter gives us discounts, giveaways and tea company's inspirations. Don't be left out of our community.
Below I have included an instructional brewing chart to help you brew your teas.
Like us? Love us? Want a certain tea reviewed?
SEND US YOUR COMMENTS!
(So serious, write to me and tell me what you are thinking, I honestly want to hear from everyone!)
Don't forget to follow me and make sure you say Hello!
************************************************
AVERAGE BREWING INSTRUCTIONS:
These are common instructions for brewing teas, however if the company suggests other brewing I will include it in the review section.
Time and Temperature Guide:
Tea      Temperature Minutes
Black      95°C / 205°F 3 – 5
Oolong/White 85°C / 185°F 3 – 4
Green/Yellow 80°C / 176°F 2 – 3
Herbal/Tisanes.         100°C / 212°F 5 – 15
** As always stated by My Tea Vault, we think you should enjoy tea the way you like it, I like mine very strong with no sweetener, these are just guidelines and I suggest you use the guideline then adjust for your own tastes.